This article is more than 1 year old
Firm touts anti-radiation chip for phones
'Quantum physical information wave' technology employed
If you believe that mobile phone use puts your brain at risk from electromagnetic radiation, then a Belgian firm's latest offering may put your mind at ease. It's a gadget that's said to neutralise a phone's potentially harmful rays.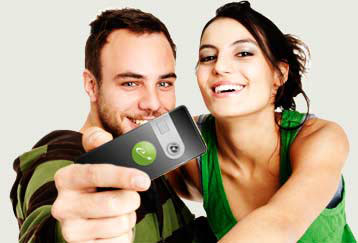 The E-Waves Phone Chip (it's the green dot)
The E-Waves Phone Chip is essentially a bulky sticker that attaches to the back of your handset and works by using "interference technology".
When you make a call, the chip beams out - it says here - "a quantum physical information wave" towards your brain to neutralise any potentially harmful waves sent out by the phone. The E-Waves' radiation cancels out the phone's radiation, the company behind the project said. It revealed nothing else about the gadget.
Register Hardware is sceptical, to say the least, but the chip is nonetheless said by its maker to be the product of five years of research carried out by developer More Energy Solutions.

E-Waves' claimed effect in thermal scans (left to right):
No GSM call being received, GSM call being received but with no E-Waves in place, and GSM call received with E-Waves in place
In an effort to get its message across, distributor Omega Pharma has released contrasting thermal imaging shots of someone's head during a mobile phone conversation. One picture shows how the user's brain heated up when using an ordinary phone, whilst another image shows that the person's cranium was kept cooler, allegedly thanks to the chip's protection.
Numerous studies have already been conducted into the potentially harmful effects of mobile phone use. But it's worth remembering that for each one that hinted at a link, others have found contrasting evidence.
If you believe the E-Waves Phone Chip claims, or just want to give it a try, then it will be available from tomorrow through Omega Pharma pharmacies in Belgium for around €40 (£35/$51). A UK-specific launch date hasn't been called in yet, but a European rollout is expected to follow shortly.