LG tests 100Mb/s download phone chip
A viable 4G technology?
LG has begun testing a mobile phone chip that could pave the way for download and upload speeds of, it claimed, up to 100Mb/s and 50Mb/s, respectively.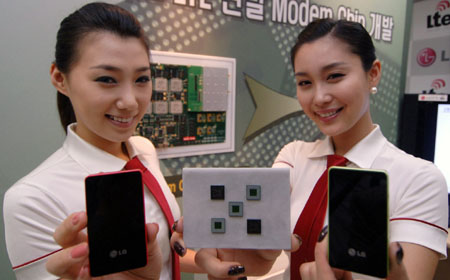 LG's 3GPP LTE chip and friends
The 13mm x 13mm chip was recently tested on a Windows Mobile device at an LG research lab in Korea. Although the part only managed a top download speed of 60Mb/s and an upload speed of 20Mb/s, both mark a vast improvement on anything possible using today's HSDPA technology.
LG's chip is based on a mixture of existing WCDMA 3G technology and the 3GPP Long Term Evolutionary (LTE) specifications.
LG was quick to brand the chip a 4G technology and promised that, one day, its offering let you download a 700MB film to your phone in less than 60 seconds.
Dr Woo Hyun Paik, LG's CTO, claimed that a "commercially viable LTE handset is on the horizon" - the company's estimated that the first LTE mobile phone will reach the market in 2010.
Phones embedded with such high-speed download/upload chips will only be worth your investment though if network providers are prepared to make the investment to upgrade their networks to cope with 3GPP LTE.
But LG claimed that because 3GPP LTE is based on WCDMA technology, network providers will be able to upgrade their networks at a lower cost than they would if moving to a rival '4G' technology, such as WiMax.