Archos 7 internet-enabled PMP
Two inches can go a long way
Review So, how much difference does two inches make? This is what you must ask yourself when deciding if the Archos 7 is worth the extra cash over and above its 5in-screened sibling, the Archos 5.
While the 7 is a big chunk-of-a-device, it doesn't feel the unholy monster that the Archos 705 does. Size-wise it measures 190 x 110 x 16mm and weighs 640g, which makes it about two-thirds again as big and twice as heavy as the 5. It most certainly is not pocket portable, but it should slip into the average backpack or manbag without causing too much grief and it maintains the 5's solid metal case and sleek, minimalist styling.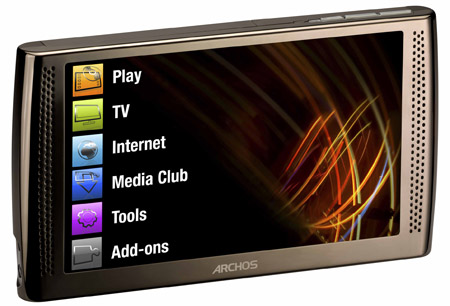 Archos 7: not exactly pocket portable
The 7's screen is actually 6.8in corner to corner, but Archos 6.8 would be a silly name for a device. Size apart, it's the same as the screen in the 5 with a resolution of 800 x 480 and a 16m colour palette.
The extra acreage means that video files of a given resolution do not look quite as crisp as they do on the 5 or Cowon A3, though you would have to put them side by side to notice the difference.
On the other hand you can comfortably watch the 7 from a greater distance than the 5, and the extra screen size means 2.4:1 widescreen DVD rips can be watched for longer with far less eye strain.