This article is more than 1 year old
Archos 7 internet-enabled PMP
Two inches can go a long way
Without banging on again about Archos's habit of charging more for certain audio and video codecs, let's just say that out of the box the 7 supports Flac, Ogg, MP3, WMA and WAV audio along with WMV and MPEG4 AVI – divX and Xvid – video and that those will probably satisfy the majority of purchasers. The 7 will also display JPEG, BMP, PNG, GIF and PDF files.
It's a shame that the 7's screen can't be changed from landscape to portrait while viewing PDF files as it can when viewing JPEGS - if it could the 7 would make a decent little impromptu PDF eBook reader.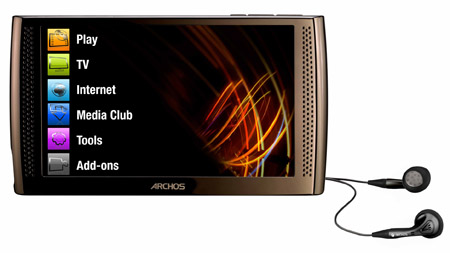 Two speakers significantly improve the sound quality
Turning from one page to the next is a simple matter of making an up-swipe on the screen. Of course a future firmware update may address this - Archos has already released three updates for its internet media tablets since October 13.
Physically the 7 has a couple of clear design improvements over the 5. Firstly it has two very respectable speakers, one on each side of the screen. While the single speaker on the 5 was frankly a waste of space, the stereo set on the 7 produce a more than capable sound and churn out a decent volume.
Set it up on your desk and you can quite comfortably watch video without headphones, though as you would expect everything is a bit too bass-light for serious music enjoyment.