This article is more than 1 year old
RIM Blackberry Pearl Flip 8220
The message machine to be seen with?
Review It might seem slightly perverse for RIM to produce a clamshell Blackberry when almost every other phone maker's attitude seems to be 'been there, done that' while they focus on sliders and candybars. But there is method in the madness.
RIM's intention with the Pearl range has been to broaden the appeal of the Blackberry beyond its corporate beginnings and to make it just as much about all the other things that people buy phones for – style, fun, a camera, a music player, web browsing and, of course, email, still the Blackberry's USP.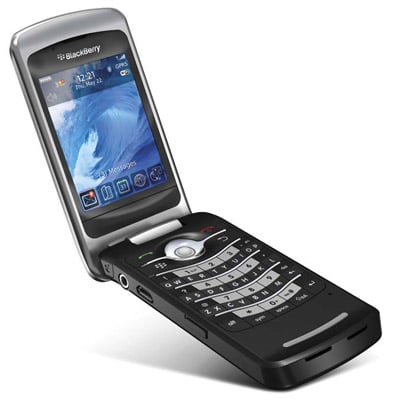 RIM's Blackberry Pearl Flip 8220: stylish and sophisticated
Adding a clamshell variation into a market that's not exactly awash with them at the moment could well prove a window of opportunity for the brand, especially when it's as stylish and technically sophisticated as this one.
Looks-wise, the 8220 has a more sober appearance than its brightly coloured predecessors in the Pearl range - which are "aimed at girls and hairdressers", as one WAG had it. It looks serious with its glossy black front, but not necessarily in a boring business way. Put it this way, James Bond wouldn't blow his cool by ostentatiously displaying one of these in his next movie.
The outer screen measures 27 x 34mm with a 128 x 160 resolution - the main, interior one is 240 x 320 - and is barely noticeable with the phone in repose. When you receive a call, however, it flicks into life, revealing an analogue clock with date as well as caller, battery, message and signal info. You can also activate it by pressing one of the two programmable 'convenience keys' on each side.