RIM Blackberry Pearl Flip 8220
The message machine to be seen with?
Elsewhere on the 8220's sides are a mini USB charging port, 3.5mm socket for headphones, a Micro SD memory card slot - it will take up to 16GB though no card comes supplied as standard - volume keys and a call mute key.
Back to the front, and above the outer screen there's a two-megapixel camera with LED flash and a red status light. There's a slight curve to the body near the top, which may help when flipping it open with one hand. But there's a small surprise when you do: the screen comes to rest behind the body of the phone. This feels a bit odd both in the hand and next to your face when you're holding it to your ear. It's no big deal - it's just a bit odd.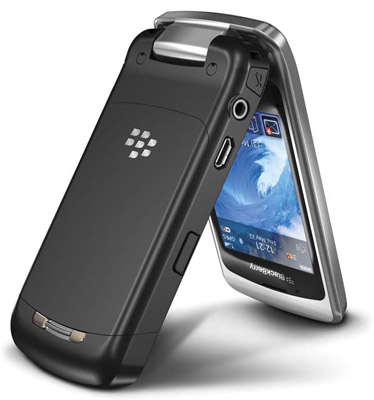 Not for girls and hairdressers?
There's nothing odd about the keyboard, though, which is all business sleekness and efficiency. The keys are large and well spaced, making the entry of text messages and email as a pleasurable as it can be without a full Qwerty keyboard.
Actually, the Blackberry SureType keyboard is arranged in Qwerty style, but with two letters per key. You can set it so you tap twice for the second letter, or use predictive text. Either way, you'll need to spend a bit of time getting used to it if you're not already a Blackberry user. It doesn't take long, though.
Blackberry's patented trackball sits above the keypad, but unlike the one on other Pearls, it's recessed slightly to allow the flip to close. It's easy enough to use, though habitual Blackberry users may have to make a slight adjustment to their trackball style, using the tip, rather than the flat of the thumb.