RIM Blackberry Pearl Flip 8220
The message machine to be seen with?
Blackberry's 4.6 OS is very nicely turned out, with 24 icons neatly displayed on screen. While it's not really the fastest phone OS when it comes to nipping through menus, it's by no means disastrous. Our niggling frustrations at having to wait a fraction of a second when switching functions was offset by the fact that everything seemed to be in its proper place and easy to find.
The browser won't pass muster against the best new browsers from Apple or HTC, but it does the job efficiently enough, the trackball allowing you to pan around pages with ease with a single press allowing you to zoom in - though you'll need to access the menu options to zoom back out again.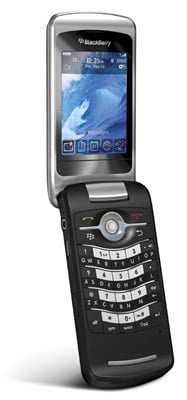 3G-less
The column view option puts all text and pics into a single column, which can come in handy, especially since there's no option to view pages in landscape mode. The 8220 is a quad-band phone, but with no 3G, fast internet access when you're out and about isn't an option unless you find a handy hotspot to connect to through the phone's Wi-Fi link.
The two-megapixel camera isn't a selling point by any means, but it's not an embarrassment either. It's very quick to get into - around two seconds - and takes pics quickly too, which, let's face it, is great for the kind of ad hoc snaps we all tend to take on our cameraphones. Pics are about as good as you could expect for this resolution - 1600 x 1200 - and show up well on the sharply detailed screen.
There's also a 5x digital zoom, which you can control with the trackball, which is a neat trick, but little in the way of post-pic editing tools. Quality takes a drop with video, as is usually the case with phones. The moving picture isn't as sharp as still ones, and the camera struggles with fast movement. But it's certainly not the worst we've seen.