This article is more than 1 year old
Logitech makes play with 'comfort' gaming über-keyboard
Gaming's a tough business, so Logitech has unveiled an ergonomic keyboard designed to help you in your quest to slay dragons, shoot zombies and burn rubber.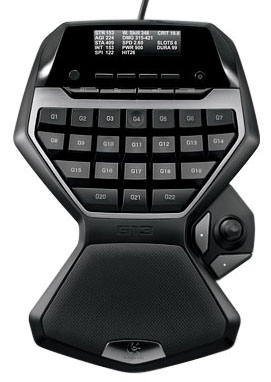 Logitech's G13 gaming keyboard: comfy
The G13 is described as a hybrid gaming keyboard that's crafted to provide "game-changing comfort and control" whether you're playing on a PC or a Mac.
Its "Comfort Wave" design is sculpted to complement the natural shape of your hand and fingers, and smooth and concave home-row keys supposedly make it a doddle to find buttons by touch.

Create in-game macros
The keys are backlit, and there hundreds of colour options to choose from. Some of the buttons can be set to load up specific games, while the integrated analogue stick can also be programmed to perform specific functions. Macros can even be created on the fly without having to pause your game.
The integrated GamePanel LCD has a 160 x 43 resolution and displays vital game statistics, such as system information and messages from rival players.
Logitech's G13 gaming keyboard will be available in the UK later this month and is expected to cost around $80 (£54/€61).