This article is more than 1 year old
Sun closes 'future' pay-per-use utility computing service
From flagship to flag maker
Sun Microsystems has killed its once high-profile utility computing experiment, Network.com, which let customers buy computing power by the hour.
The company revealed it's no longer accepting new customers after four years, saying parts of the business and technology model "were not in the sweet spot". The 13 customers and 48 applications using Network.com are will be offered continued service.
Utility computing was one of chief executive Jonathan Schwartz's personal causes here and here, and a path to new revenue for Sun. The idea of Network.com was to let customers rent Sun's computing power instead of buying their own expensive servers or expand their data center capacity.
It worked on paper, not in practice.
The service struggled to attract customers and lately was starting to look dated, serving as a place for the likes of film giant Pixar to dump huge rendering jobs, but not suited to the needs of start-ups and individuals wanting lightweight hosting and RESTful hosting and provisioning. These customers are moving to Amazon Web Services, instead.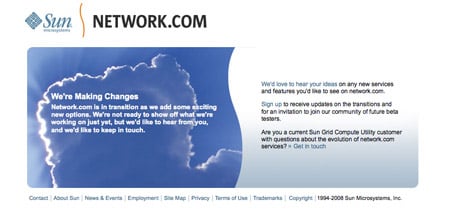 The future ain't what it used to be: Sun's utility computing service is closed
Dave Douglas, senior vice president of cloud computing and developer platforms group, said a replacement service is planned but was unwilling to divulge any details. He revealed the closure to press and analysts in San Francisco, while outlining Sun's cloud strategy. Douglas' cloud and developer group has taken on new significance following a re-organization that folded in development of Sun's software products.
Reading between the lines, it seems Sun will now evangelize clouds and provide its own hardware and software with a view to running customers' clouds. "We will have a grid going forward," Douglas said. "It may just not look like the old one." He added that Sun might run its own branded cloud services in some cases.
A typical example could see Sun build a Memcached distributed memory caching system using Sun's MySQL for a customer, and then possibly running it, Douglas said. MySQL customers using Memcached today include YouTube, Facebook and Wikipedia.
Sun cloud computing group chief technology officer Lew Tucker - who helped build Salesforce.com's AppExchange while on a hiatus from Sun - rounded up the hardware and software Sun plans to promote among customers and partners. These span OpenSolaris, xVM, Virtual Box, Crossbow, MySQL Glassfish, Sun Intel and Sparc servers and blades. Also in the mix are Sun's Open Storage, Sun's 70000 storage units, xVM Operations Center and OpenID.
Existing enterprise customers are likely to be Sun's best bet. For all Sun's talk of clouds, the sad fact is that Amazon, Google and Salesforce.com - those owning the mindshare - are not using Sun equipment. They are running a mix of Linux on Intel servers - which Sun can provide, but are - clearly - no Sun's crown jewels of Solaris and Sparc servers.
Tucker said he believed Sun could find a market by having Linux run on top of the xVM or by building out a virtualized network using the Crossbow network virtualization and resource control systems in Solaris and OpenSolaris.
"With Solaris virtualization you can run Linux fine as a guest on the hypervisor," Tucker said. "You can use Solaris to run the data center... virtualization technology brings new life as to why you want Solaris. It's like the old mainframe days." ®