This article is more than 1 year old
Apple files 3D-interface patent
Inspired breakthrough or sci-fi fantasy?
The US Patent and Trademark Office today published a collection of Apple filings, including a 3D interface that may herald the most radical - or, dare we say, the most bizarre - usability development since Doug Englebart first demoed a window-based GUI 40 years ago yesterday.
Described in excruciating detail by AppleInsider, the "Multi-Dimensional Desktop" application, filed on June 8 of last year, describes a 3D workspace - "desktop" being a wholly inadequate term - in which the familiar 2-dimensional GUI is joined by a floor, ceiling, and right and left walls, each capable of displaying interface items such as windows and icons.
If you think your desktop is crowded now...
Interestingly, although the filing appears to describe a 3D representation on a 2D surface, it in no way precludes such an interface from being implemented on a fully 3D display, with physical rather than virtual displays of the aforementioned floor, ceiling, and right and left walls.
Coupled with the proximity-sensing patent The Reg discussed last week, if implemented in true 3D space this newly published filing may usher in an entirely new way of interacting with your Mac - one in which you reach inside your display to manipulate interface elements rather than merely pushing your cursor around your 2D desktop using your mouse.
Or Apple may simply be attempting to patent the inside of a box.
As MacRumors correctly points out, "Apple has not been the only one working on 3D desktops," and cites examples from the Dynamic Graphics Project and Sun's Project Looking Glass. Long-time Apple watchers may also remember rumors of a 3D interface for iWork, or the aborted HotSauce interface (aka Project X) of the mid-1990s, created as a demonstration of Apple's Meta Content Framework (MCF).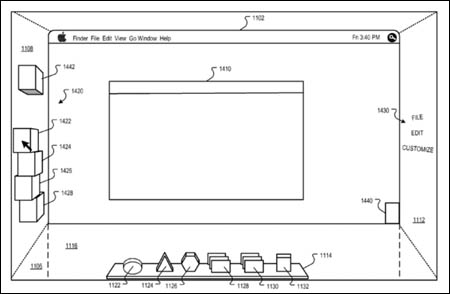 3D icons may live in a 3D environment.
3D elements are already present, of course, in Mac OS X Leopard's icon-holding Dock, as well as in the Cover Flow view in the Mac OS X Finder, iTunes, and iPhone and iPod Touch; the media-managing Front Row; and the useful-but-somewhat-silly file-restoration interface for Mac OS X's backup utility, Time Machine.
This new filing, however, vaults 3D from mere eye-candy status to the central metaphor of the entire GUI. The "Multi-Dimensional Desktop" filing describes an interface in which the "floor and "walls" can themselves slide in and out of view, carrying icons and windows with them. Icons and other elements can position themselves in the foreground or background - or even delete theselves - in relation to their "last access time," or move from the main work area to secondary areas - or vice versa - when an "online buddy" logs on or off.
A physics model described in the filing can enable a toggleable "magnetism" function that can facilitate icon grouping and ungrouping, and an "illumination effect" coming from one or more windows can "change according to local environmental states" - meaning that, for example, a simulated sunbeam could track across the 3D space in relation to local time or even "local weather conditions that are received over the network."
The filing describes alternate geometries to the simple interface-in-a-box, including a tetrahedral implementation, a triangular version, and even a cylindrical view in which your interface becomes "like, totally tubular, man." Luckily, "a configuration menu can present one or more multidimensional environment geometries for selection by the user," so you'll be able to regain your visual sanity with the click of a Preferences button.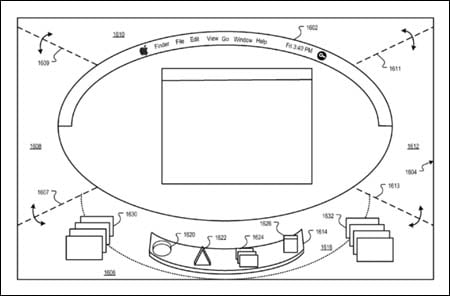 This GUI gives a whole new meaning to "IP tunneling."
As intriguing as all of this may sound, don't expect to see a 3D interface on your Mac anytime soon. Nothing in the Snow Leopard specs point to such an interface option in next year's Mac OS X 10.6, nor have there been any leaks from the sieve-like Mac developer community.
Will Mac OS XI see the introduction of a 3D interface? Will proximity-sensing displays couple with a 3D GUI to provide a true physical 3D experience sometime in the not-so-distant future?
Or will the "Multi-Dimensional Desktop" filing - along with the rest of the crowd published today - join HotSauce and others in Apple's graveyard of good intentions? ®