Santa usually only visits well-behaved children, but this year he's decided to drop in on the website of PC manufacturer Dell.

Sata - aka Santa - according to Dell
An eagle-eyed Register Hardware reader has discovered that the search term "SATA" will prompt Dell's US website to ask customers "Did you mean: "santa"?
We didn't realise that the credit crunch had affected Dell so badly that it felt necessary to advertise Santa's services alongside its own goods. Or, perhaps Dell's struck a deal with jolly old Saint Nick to put its Inspiron Mini's into stockings this year?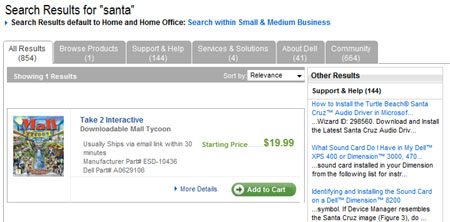 Dell's Santa suggestion
Clicking on Dell's Santa suggestion brings up different products each time you try it, with our last attempt feeding through to a purchase page for videogame Mall Tycoon.
Dell's Santa/Sata festive mix-up also works on its European website.
Thanks to reader Charlie for spotting this one.