Groupware put to the test and found wanting
Business productivity mini-poll delivers your verdict
---
Over 300 of you responded to the business productivity mini-poll. Thank you very much. But what did you say? Is groupware a dog or a god? Well, let's put it this way, when it comes to productivity, it currently ranks just above Search/Discovery and Graphical Tools. And they're the least popular.
Of the tools in use today, communication and messaging came out top in terms of benefit to the organisation, with 'office' applications close behind. Perhaps the skew is simply because these things are well entrenched and the thought of having them taken away is too much to bear.
But what of the future? Well, it's interesting to note that collaboration tools such as wikis and other social tools are expected to contribute most to productivity. They rank just about equal in top place, whether hosted internally or on the web. In this context at least, there seems to be little resistance to software as a service. Communication and messaging tools lie in third place.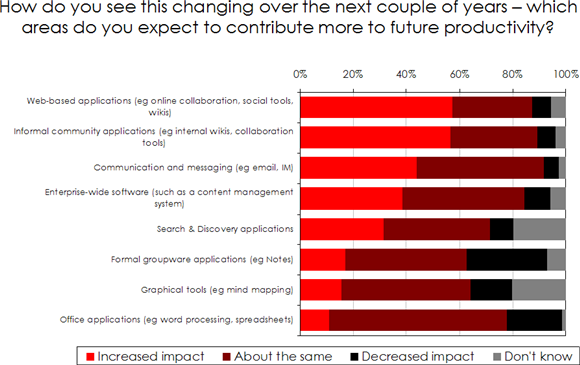 As you can see from the chart, even the organisation's content management system is expected to have twice the impact on future productivity than formal groupware, So, it certainly looks as if the world is changing, and not in groupware's favour. Although it still mustered 17 percent of respondents who expected it to grow in influence against over 30 percent who expected it to decline.
When it comes to the non IT initiatives which could contribute most to business productivity, it seems that management could do with setting clearer goals and objectives. Over seventy percent of respondents felt this way. Improved interactions between teams ranked second, which suggests that those who are embracing the social and collaborative tools are expecting a payback. In third place was an (obvious?) recognition that prioritising activities with the most potential is highly desirable. This actually took the top spot among respondents who worked for IT Vendors.
So there you have it. New style collaboration and communication tools appear to be trouncing groupware. But none of it will mean much unless management can raise its game too.