This article is more than 1 year old
Max Planck Institute punts 'hot, young housewives'
Mag cover Chinese calligraphy cock-up
Chinese-savvy subscribers of the German-language Max Planck Research got a unexpected treat when the magazine featured a cover punting "hot, young housewives" in an ad for a Hong Kong strip club.
The publication apparently believed the text "depicted classical Chinese characters in a non-controversial context" but, as Oz's The Age explains, it was quickly fingered by Chinese net users as "similar to wall posters found in the red light district of Mongkok in Hong Kong".
Specifically, it more or less says*: "We spend a lot of money to have [girls] to be in house during daytime. Our mama sans, Ga Mei and KK**, present you with young and beautiful girls. Stylish and good mannered beauties from the North [of China]. Sexy and hot, young housewives. Flirty and enchanting, available today."
Cue quick reprint (see below - before and after), although not before the mag had sent out the offending issue to subscribers.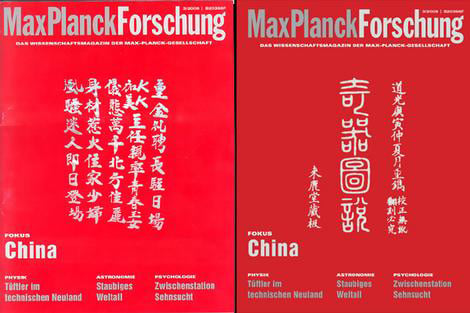 The institute has now apologised for the outrage, which was apparently "vetted by a sinologist". It explains that the calligraphy "had been chosen by our editorial office in order to symbolically illustrate the magazine's focus on China".
The apology continues: "Unfortunately, it has now transpired that this text contains inappropriate content of a suggestive nature. To our sincere regret, however, it has now emerged that the text contains deeper levels of meaning, which are not immediately accessible to a non-native speaker."
In case you're wondering, the replacement cover "refers to a book written by the 16th century Swiss Jesuit, Johannes Schreck, titled Illustrated Explanations of Strange Devices. ®
Bootnote
*The Age has a "more formal" translation here.
** = "Our brothel madams, [named] Ga Mei and KK..." we reckon.