This article is more than 1 year old
Application platforms: different stuff, same story?
Build, reuse or buy – the eternal argument
When it comes to IT, the build versus buy argument is part and parcel of the industry. We know from the last Barometer study that custom application software development is just as important for many of you as packaged application software.
The notion of an application platform (aka 'the bits between the app and the server') might bring the build-versus-buy discussion back to the fore not least because the roster of components we'd expect to be included in one is broad, and many of them already exist as standalone applications in their own right.
Indeed, having been discussing application platforms recently with the Reg readers, we've discovered that there is a certain order of expectation when it comes to the capabilities which are considered as important enough (or not) to be included in an application platform (see figure), but it's not what we'd call 'ratified'.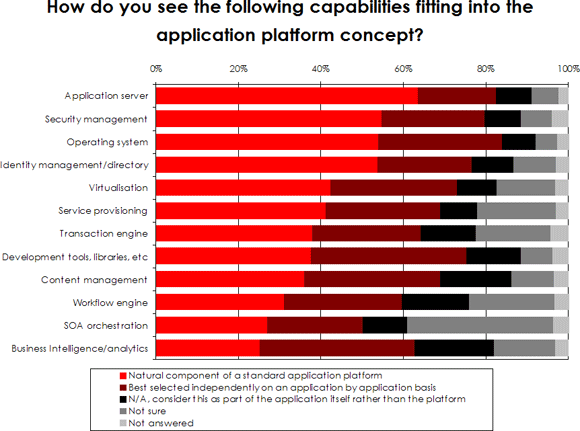 We found that a quarter of those that responded to the survey we ran to kick off these discussions had already formally adopted the idea of an application platform. A further 37% said they 'naturally reused the same range of application components'. We're talking about the way things are heading then.
So when it comes to applications, how do things look or feel in your organisation right now, and do you think this has already dictated the way you expect to approach application platforming in the future? We can imagine that for as many people who are excited by the idea of buying 'everything' that goes to make up an application platform from a single vendor, there are an equal number who would recoil in horror at the thought. Call it fear of vendor lock-in or the desire to retain flexibility, but at the moment 'going all the way with a single vendor' is a minority sport. What about two vendors, then, or more, or does that defeat the object?
Then there's the notion of 'best of breed'. The idea being that buying the best individual components and spending time and effort making them work together can create something better than a single vendor could offer. We've seen this happen at the application level, could it happen at a subcomponent level? When application components are described as services, there's no reason why they cannot be swapped in and out, assuming the architecture allows it. Buy some bits from someone who really understands our industry, write a few bits ourselves. There is a reason why not of course and it's the same one which explains why banks no longer write their own application servers ad why packaged application software became popular.
In your organisation then, do you expect to see a 'default' combination of all of the above, or will there be a more measured progression to an application platform environment which was purposefully chosen because it adds competitive edge? As usual, we're keen to know where your thinking is at.