This article is more than 1 year old
Dell battles HP to trash Mother Earth
1 sheet of A4 paper, bubblewrapped...
Aboxalypse now HP's ongoing bid to trash Mother Earth by putting small things in really big boxes and, if possible, strapping those to a pallet continues apace, as witnessed by NZ-based Eugene Chan, who recently made the mistake of ordering a licence key from the world's biggest consumer of cardboard: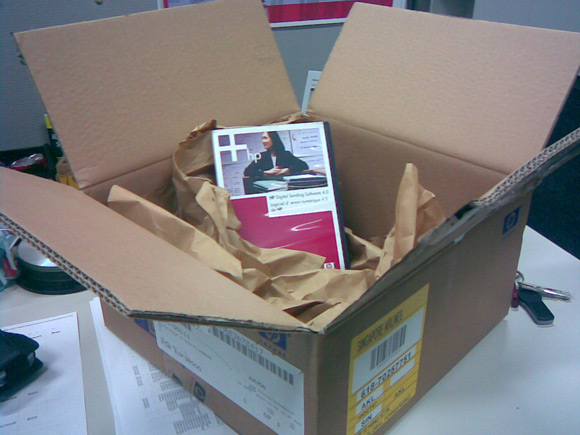 Scratch one hectare of rainforest, and no messing. However, in the interests of balanced journalism, we'd like to note that if Eugene lived in Oz, his licence key would probably have arrived on a small piece of recycled paper delivered by a courier astride a carbon-neutral mountain bike constructed from bamboo.
Why? Because HP (and make sure you haven't got a mouthful of coffee before continuing) recently secured an Australia Packaging Evolution Award for "exceptional results in packaging environmental design and waste management".
We kid you not. Specifically, HP stepped up to the podium to receive the "Household Goods Packaging Action Award", prompting Annukka Dickens (Environmental Manager, South Pacific) to effuse: "This award is a valuable recognition of our environmental efforts this far and provides great encouragement to continue developing the programs further in the future."
She insisted: "Packaging and product environmental design continues to be part of HP's environmental focus, along with product reuse and recycling programs and the drive to increase social and environmental standards within our extended supply chain."
Oh really? Well, let's examine Chris Fryer's experience of how the company drives environmental standards within its extended supply chain.