External storage supplier La Cie has found a way to quieten its external drives by adding staggered notches to the trailing edges of the fan blades. How does that work?
This is my understanding of the airflow and acoustics involved. A typical drive or CPU-cooling fan has, La Cie says, seven blades. These blades are angled and, as they spin, they cut into the air and send it at higher pressure (pressure side) underneath the fan blade and at lower pressure (suction side) over the top of the fan blade. The two airflows meet and merge at the trailing edge of the fan and vortices form as the two flows' different pressure levels get equalised.
The tumbling together of the airflows creates noise. What Noctua, a La Cie partner in Austria with a Taiwanese manufacturing link, found was that a smooth uninterrupted trailing edge fan blade line was not ideal. Instead, by putting notches in this edge, the upper and lower fan blade airflows joined at varying points along the trailing edge and this reduced the perceived noise level.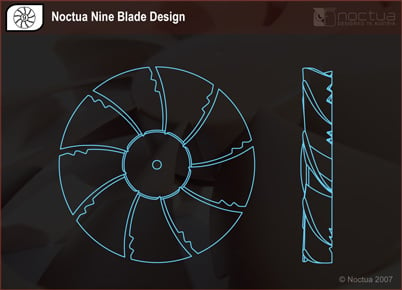 Noctua 9-blade fan design.
The Noctua NF-P12 fan design has nine, not seven, blades and these are quite close together with a low angle of attack. Two vortex control notches are cut into each blade's trailing edge. These help the two airflows to meet and merge more smoothly and with less tumbling or turbulence, because the single vortex line along smooth trailing edges is broke up into smaller vortices which have the effect of spreading the created noise across a wider range of frequencies. That mutes the noise and makes it less annoying.
Another neat trick is to put the two notches at different places on each of the nine blades so that the acoustic profile of each blade is different. The noise is then spread over yet more frequencies, further reducing the perceived annoyance - think of a dull roar being reduced to a dull, broader frequency hum.
The fan's design also moves as much air at 1300rpm as a 7-blade fan spinning at 1600rpm.
La Cie claims that its recently announced 4big Quadra and 5big Network four and five-bay RAID external storage products use this Noctua cooling technology. Their average noise emission is 40 per cent lower than predecessor products from La Cie; that's up to 15dB quieter. Olivier Mirloup, LaCie's Hard Disk Solutions Business Unit Manager, said: "We are very proud of the result. It's a vast improvement."
The 4big Quadra and LaCie 5big Network are available at suggested retail prices starting from $849. Remember though, don't make a noise about it. ®