Want a really cheap way to build your own NAS rig? Enter Addonics' NAS Adapter, a $55 (£37/€42) dongle that connects any USB hard drive to your network.
OK, it's not going to be a full replacement for a Netgear ReadyNAS or somesuch, but the tiny NASU2 does provide a handy way of adding an existing drive to a network.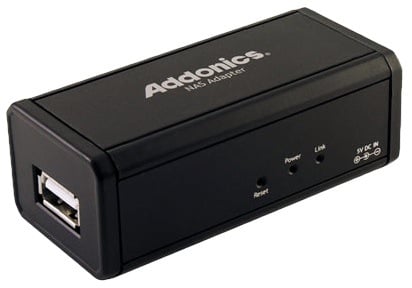 Addonics' NASU2 NAS adaptor: plug and play
There's a USB 2.0 port at one end and a 10/100Mb/s Ethernet port on t'other. The until provides SMB access to the drive's contents, along with FTP support for remote access.
It'll operate as a print server - hook up a USB hub to connect multiple devices - and it'll grab Torrent downloads for you too.
The NASU2 is available now from Addonics' website.
NAS Box Reviews...
| | | | |
| --- | --- | --- | --- |
| WD ShareSpace | RipFactory RipServer | Data Robotics DroboShare | Freecom DataTank |