'Leccy Tech Mercedes will unveil three electric concept cars at the Detroit Motor Show in January.
According to German magazine Auto Motor und Sport, Mercedes will show the Blue-Zero E-Cell, which is powered solely by a lithium-ion battery pack, as well as two other variations on the 'leccy car theme.
The Blue-Zero E-Cell Plus is a plug-in petrol hybrid like the Chevy Volt. It uses the three-cylinder turbo found in the Smart ForTwo. A second concept, the Blue-Zero F-Cell, has an on-board hydrogen fuel cell.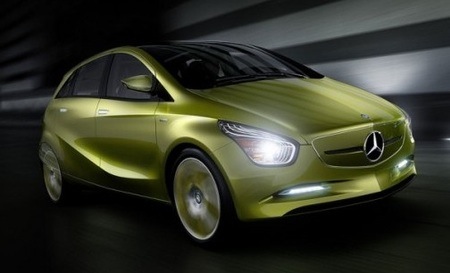 Mercedes' Blue-Zero E-Cell: Battery, fuel-cell and hybrid variants
The E-Cell can apparently cover 125 miles on a full plug-in charge, while the F-Cell can go twice as far using its 90kW fuel cell.
The E-Cell Plus has a maximum range of 375 miles, with its petrol engine able to power the wheels directly as well as through the battery and generator. On battery power alone, the E-Cell Plus can only manage around 60 miles.
All three should make the 0-60mph sprint in around 11 seconds.
The images are the strongest indication yet of what the next-generation Mercedes A- and B-class cars may look like.
The Detroit Motor Show opens on 11 January 2009.
Mercedes Blue-Zero E-Cell Plus Picture Gallery