Mixed reviews for semen-based recipe book
Natural Harvest not to everyone's taste
NSFW The chaps out there who were wondering just how to give the missus a special treat this Xmas might consider a tasty alternative to taking her up the Oxo Tower - a glossy book of semen-based recipes: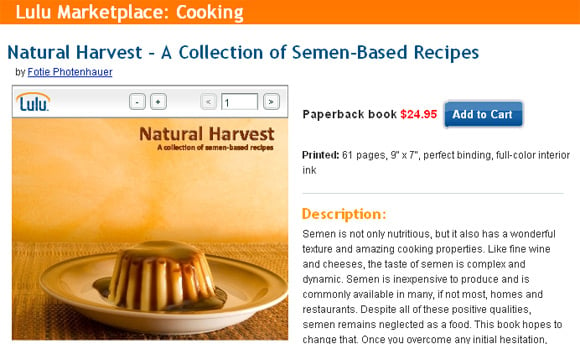 As the blurb rightly points out, semen is "inexpensive to produce and is commonly available in many, if not most, homes and restaurants" as well as an "exciting ingredient that can give every dish you make an interesting twist".
The book has, it must be said, attracted mixed reviews. One satisfied customer described it as "GREAT Book - a must buy!", elaborating: "I bought it and tried the spoon-n-toss cookies as a surprise for my wife. She gobbled one up really quickly but I just can't get her to swallow them. On the bright side, she said she was willing to try another batch next weekend."
Another post, though, warns: "Did anyone ever think about the STDs like herpes... factor in this? Oh, just what I'd want - to catch some STD from eating someones semen unknowingly !!! GROSS."
A fair point, in which case you might want to try this alternative: Cooking with a Serial Killer - Recipes From Dorothea Puente. ®