How-to Thanks to a new, free, web-based service launched today, you can now cut and paste text snippets between Safari and Mail on your iPhone.
As The Reg pointed out in our recent overview of Apple hardware, the Jesus Phone's lack of a cut-and-paste capability is one of its more annoying limitations. As we wrote, the lack of cut-and-paste is "a true pain, especially when quoting Web content in emails or moving info from Notes into email messages."
Today, at least part of that limitation has been mitigated with the launch of pastebud, a free service that doesn't require you to download and install anything from the iTunes App Store or to jailbreak Jesus. And it works on either the iPhone or the iPod Touch.
Here's how to get pastebud up and running.
Installing from Safari
Installing pastebud using Safari is a simple process - much simpler than setting up the service from your iPhone or iPod Touch.
1. Launch Safari and point it to pastebud.com.
2. From the green Try It Now boxout on the right right side of the page, drag both the COPY and PASTE bookmarks to Safari's Bookmark Bar, clicking the OK button each time to affirm their addition to the bar.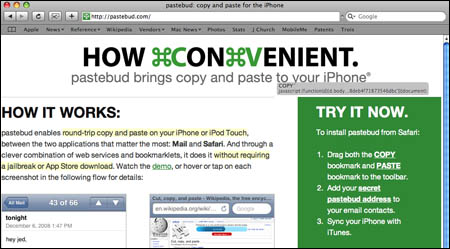 Installation from Safari is drag-and-drop simple
3. In the Try It Now boxout, click the underlined text "secret pastebud address." An email message will open. Use your email client's standard method for adding this address to your email-contact list.

Apple's Mail has its faults, but adding a contact is easy
4. The next step is, as the installations instructions indicate, to simply "Sync your iPhone with iTunes." When you do, however, make sure that you enable Bookmark syncing in the iTunes Info tab after you select your iPhone in the iTunes Devices area - that is, unless you have a MobileMe account, in which case syncing will be handled automatically if you've set Bookmarks to sync in the MobileMe System Preference on your Mac.
Similar topics