Installing from the iPhone or iPod Touch (cont.)
8. When the magnifying glass appears, drag to the left across the URL until you get to the "____" section of the URL.
9. Now, using the soft keyboard's delete key, delete everything in the URL that appears before the word "javascript."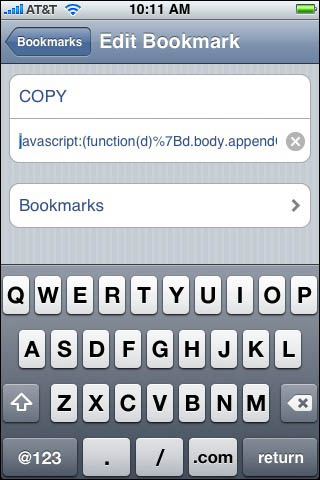 Chop that URL until it begins with "javascript."
10. Click the Bookmarks button to return to the Bookmarks list, which will remain in the Edit mode.
11. Perform the same URL-revision routine with the PASTE bookmark, tap the Bookmarks button to return to the edit-enabled Bookmarks list.
12. Tap the Done button in the lower left corner, then tap the Done button in the upper right corner of the main Bookmarks list that appears - and hang in there. You're almost finished.
13. In Safari on your iPhone or iPod Touch, go back to pastebud.com and tap "your secret pastebud address" in the Try It Now box-out.
14. Mail's New Message dialog will appear. Add a Subject line and tap Send. In a moment, the account from which you sent that message will receive an email message from pastebud.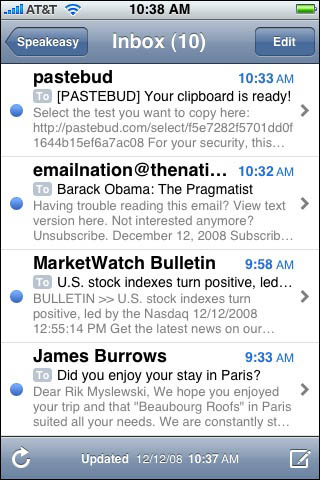 An email from your new buddy, pastebud
15. Open that message, tap the "pastebud" button in the From field, and select Create New Contact in the From dialog that appears.
16. In the New Contact dialog that appears, tap the Save button. Done. Finally.