Using pastebud
Using pastebud takes a bit of a mental readjustment, seeing as how it's not as transparent a process as Command-C followed by Command-V - but once you get the hang of it, it's quite simple.
1. Launch Safari on your iPhone or iPod Touch and navigate to a web page.
Find that web page you just gotta quote...
2. Tap the Bookmark icon, then tap COPY in the Bookmarks list.
3. Your chosen web page will appear in a simplified, text-based mode. Scroll to the text you want to copy and select it by tapping and dragging.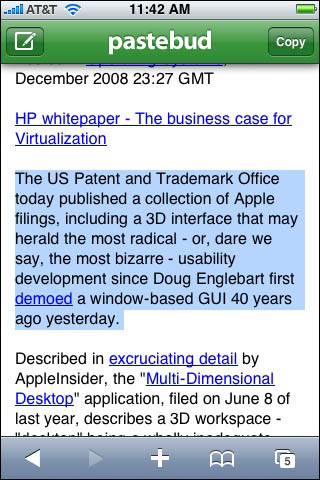 ...and pastebud will present it in text mode, where you'll make your selection.
4. Tap the Copy button in the upper right corner of the pastebud display. Your selected text is now on the clipboard.
5. Tap the bookmark icon in the lower right of the display, tap PASTE, and then when the pastebud diplay reappears, tap the New Message icon in the upper left of the pastebud display.
6. Mail will launch, with your selected text in the body of the displayed message. You can now add more text to the message, plus an address to which to send it and a subject line. After all, it's an email message like any other. Tap the Send button to send your message on its merry way.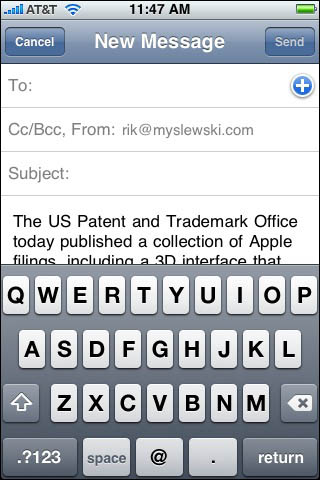 Your selected text is pasted into Mail - and, yes, it's a lot easier the second time.
7. After the message is sent, the pastebud window will reappear. Use the left-facing arrow or bookmark icon to return to Safari.
Simple, eh? Maybe so, maybe not - but we found that after a few cut-and-pastes, the whole routine became second nature.
Now, if history is any guide, pastebud will be made obsolete when Apple adds full cut-and-paste capabilities to the next version of the iPhone OS. ®
Similar topics