Review So what if you're after a phone that doesn't have an eight-megapixel camera, smartphone functionality or touchscreen tech? LG's been busy of late speccing up and serving out a pick-and-mix of eye-catching and - occasionally - innovative mobiles, but they're not for everyone.
Enter LG's KF300, aimed squarely at those mobile buyers looking for something straightforward and easy to use, but still want a smidgeon of style too.

LG's KF300: easy-to-read buttons
LG has added a sprinkling of features designed to make this handset a shade more user-friendly than most. Large number keys with easy-on-the-eyesight labelling greet you when the clamshell's flipped open, while under the display are a row of keys for specific functions – again, clearly marked for easy finger-jabbing.
The KF300 may not be a heavy-puncher like the Renoir, but it's not a complete hair-shirter either. It omits 3G, relying instead on quad-band GPRS/Edge for data, but includes a two-megapixel camera, a music player and an FM radio. MicroSD card support means you can carry around up to 2GB worth of tunes in the phone.
LG will be expecting the bodywork to catch punters' eyes too, with a shimmering, light-catching surface on the outside of the flip, and a businesslike bit of chrome trim around the sides and the top. The back panel is covered in tactile rubber-feel material.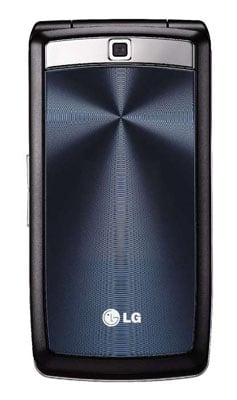 Shimmery metal effect
Emerging from under the front panel is a secondary colour display that provides a clock in standby mode, or incoming caller information when activated.
Similar topics