The big numberpad means the KF300 isn't the tiniest fold phone we've flipped. Shut, it measures up at 98.8 x 49.5 x 16.2 mm – giving it a sizable footprint for a clamshell, with its 97g weight reflecting that.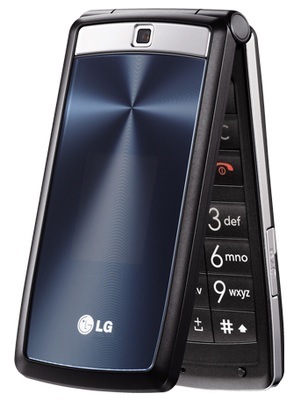 Large for a modern flip phone
Build quality feels excellent – it's substantial in the hand and doesn't feel cheap. Similarly, the controls under the lid are well designed and built. LG's done some good work here. The rectangular number keys are almost flush with the surface, but are slightly humped to help separate them and make button-pressing accurate. They're responsive too, and large numbers and letters mean those with less than perfect eyesight won't be struggling.
The sizable bodywork allows scope for a large screen under the flip. The 2.2in, 240 x 320, 262k-colour display is a decent sized screen for a phone of this class. It's bright and clear too. But all that space on the upper flip could easily accommodate something even larger.
There's room for a quartet of function keys under the display – another element of the enhanced usability in this design - for the alarm clock, calendar, the image gallery and a user-definable list of shortcuts.
We've seen dedicated keys like these before on other phones, but in the context of this big-buttoned clamshell, they're welcome and do the job required.

Good build quality
One issue users might initially come across could be with soft-menu operation, by hitting the shortcut buttons by mistake. Conventionally, soft-menus displayed on the bottom left or right of the screen are operated by the nearest control buttons, but not on this phone: they're on the main pad. To be fair, we didn't find it a significant handling problem, but it's worth noting on phone that's aimed at hassle-light use.