Apart from the large controls and easy-access function buttons, LG has stuck to familiar, conventional user interface. Tap the menu button, and you're presented with a default grid of icons for features and apps, but you can be switch it to a list view. Tap one of these and you enter a regular list of options, with numbers next to them for quick selection using the numberpad.

LG plays it straight
On our review sample from Orange - which has the KF300 on exclusive - the sub-menu fonts had been cranked up to super size, presumably to make it easier to read. OK, so this may well help folk with poor vision, but it actually makes reading the menus more time consuming and fiddly, as you can't see more than five options at once. Again, more an out-of-the-box niggle rather than a problem, as you can easily reset the text to normal size.
With the key features, LG plays it straight. The camera, which can be launched from the keypad shortcut button, is an entry-level shooter with no flash or autofocus. Pics are snapped in portrait mode, with strips framing the shot. You can choose a full-screen mode, in which case the viewfinder image will be larger but won't show the edges of your shot. Typical cameraphone settings - brightness, white balance, multi-shot, timer and colour effects - are available for adjustment but there's nothing out of the ordinary.
The images the KF300 produces are reasonable for this level of snapper but aren't particularly crisp or well-defined, depending on 'point and hope' thanks to the fixed focus lens. Colour is lacklustre, with some images appearing washed out.
Indoors, shots are softer and, with no added illumination, picture noise is more of a problem. But overall, the camera is fine for taking snaps to send by MMS. The phone can shoot video at 320 x 240, but the results are of a typical low quality.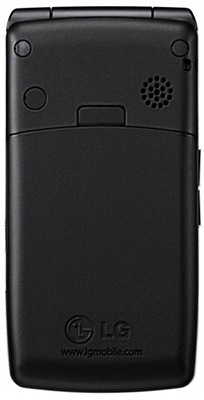 Memory card not included
With only 14MB of internal storage, slipping in a Micro SD card is essential if you want to use the music player properly, though you don't get one bundled with the handset. The card slot is tucked away beneath the battery.