A team of crafty astroboffins say they have managed to probe the guts of a quasar ten billion lightyears away - using nothing less than an entire galaxy as the main lens of their telescope.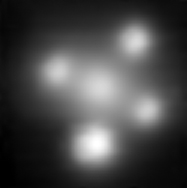 The Einstein cross.
Quasars, as any fule kno, are mysterious objects found at the very fringes of the universe. They squirt out unfeasibly massive amounts of energy in a process thought to involve incredibly mega-huge black holes, but they are so very far away that it's difficult to get a proper look at them and work out exactly what's going on.
But a crowd of top quasar brains in Europe and America have now changed all that. To begin with, they tackled the problem using the Very Large Telescope (VLT) belonging to the European Southern Observatory - and there's a reason why the VLT isn't called the Not Particularly Big Telescope, if you get our drift.
But even the mighty VLT's largeness was not enough to magnify something ten billion lightyears off with any precision. A truly gigantic lens, larger than any the human race could hope to create, was going to be necessary.
Luckily, however, there was one in place already. There is a quasar which handily has another galaxy lying between it and our solar system. This foreground galaxy's colossal mass acts in effect as a gravitational lens, bending and magnifying the light emitted by the quasar lying beyond it.
In fact the galaxy also causes multiple images of the quasar to arrive at Earth, arranged in a rough X known to astronomers as "the Einstein cross" - the eminent physicist having predicted the gravitational lensing effect in his theory of general relativity.
"The combination of this natural magnification with the use of a big telescope provides us with the sharpest details ever obtained," says Frédéric Courbin, leading the quasar-probe push.
So sharp is the picture provide by the VLT and galacto-gaze combo, it offers resolution equivalent to one millionth of an arc second. According to a summary released by the splendidly-named Dr Henri Boffin of the ESO, such resolution would allow one to see a coin floating in space 13 times as far away as the Moon. Or it would if you didn't need the use of a galaxy a billion lightyears off, anyway.
There's more detail for those with the intellectual spectacles to see it here and here. ®