This article is more than 1 year old
Any aaSes in your organisation?
The appetite for cloud services
Cloud. It's more than renaming the old stuff isn't it? It's a way of working in which you don't really want to know anything about the nuts and bolts. You just want it to work and deliver the service you've signed up for. In other words, it's a black box with a service agreement stuck on it and, with a bit of luck, a bunch of APIs which facilitate integration with enterprise applications and other cloud services.
The providers of such things come in all shapes and sizes from Google to Amazon to SalesForce.com to Microsoft. Some would argue that it's possible to set up an internal cloud - a system that delivers cloud-like services to its user community. Others would argue that a key feature of any cloud is its elasticity, its ability to scale instantly in response to fluctuating demand. That is tricky to achieve inside the conventional enterprise data centre.
Last month, a whole bunch of you (477 actually) responded to an IT Effectiveness survey in which we asked a couple of cloud-related questions. Almost half of you more or less scoffed at the idea.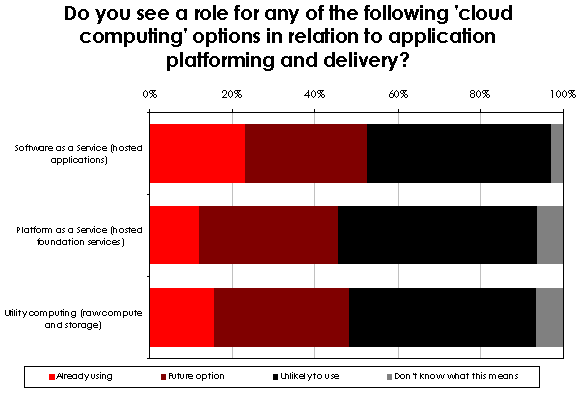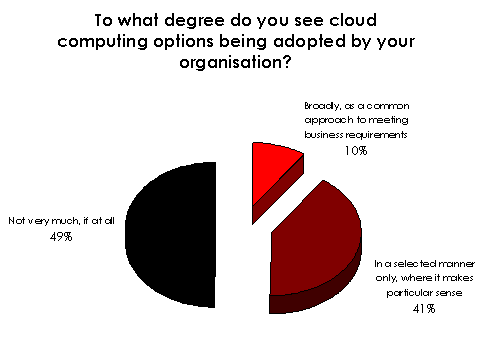 In a poll we ran yesterday, we were looking to drill down into whether cloud was just hype, pure tripe or indeed, something you could get a handle on. While we're waiting for the results we'd be interested in your feedback on some of these definitions. Is 'cloud' part of your vocabulary or do you use cloud services in earnest - SaaS, PaaS or IaaS (Software, Platform or Infrastructure, respectively)? Feel free to challenge the definitions or add some of your own.
It would be great to hear your personal thoughts on cloud computing. What, if anything, is going on inside your organisation? And, if it's not, what's stopping you? A clue to your organisation size would be helpful, but not compulsory.
Thanks. We look forward to hearing from you.