This article is more than 1 year old
Tiny iPhone en route?
China says so
Rumours that Apple will soon launch a scaled-down version of the iPhone 3G have resurfaced.
Thought to be called the iPhone Nano - not that that's a hard name to guess - the information comes from report by website iDeal China, which has claimed it was sent images of a silicone case for the unannounced talker by a third party.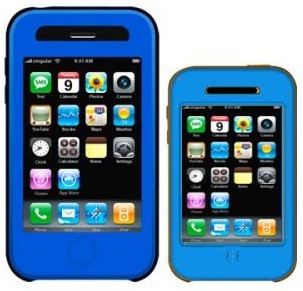 iPhone and iPhone Nano: case for the defence?
iDeal said that its source managed to get hold of the iPhone Nano case designs thanks to Apple's willingness to provide accessory manufacturers with phone designs prior to launch. This would make sense, as it enables these folk to launch add-ons on the same day devices are launched.
It's worth noting that iDeal does have a record of accurately forecasting iPhone designs. For example, the site dug up correct information about the iPhone 3G's styling several months before the phone was announced.
Earlier this month, iDeal claimed that the iPhone Nano will be the same height as the new iPod Nano - 91mm to the iPhone's 115mm - but slightly wider and thicker. Other 'leaked' features include a camera but no 3G.
It's thought production of the iPhone Nano could start later this month.