Western Digital WD TV HDD-to-HDTV adaptor
Connect your telly to your USB HDD
---
Review Streaming media players were all the rage a couple of years ago. They were a nice idea, allowing you to stream music and video files stored on your computer over your home network to a TV or music system. However, most of them were expensive and fiddly to set up, so they never really caught on.
The next step was the 'multimedia hard disk', drives equipped with video ports that allow you to connect them to a TV. Instead of streaming files across a network, you copy files from your computer to the hard disk and then plug the drive into the TV to play them. It's a simpler way of doing things, as you don't have to keep the computer turned on all the time or worry about the networking side of things.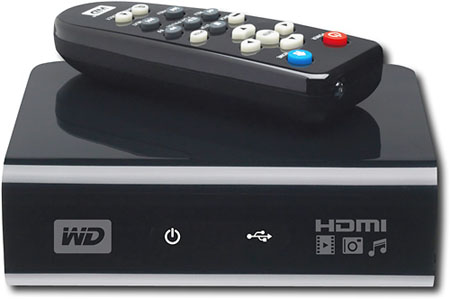 WD's WD TV: bridge between TVs and HDDs
At first glance, Western Digital's WD TV looks like yet another multimedia hard disk, but in fact it's a clever variation on the theme that's both technically efficient and cost-effective too. WD realised that anyone with a big collection of music and video files would probably have those files backed up already.
So instead of trying to sell people another expensive hard disk, it designed the WD TV as an adaptor that will allow you to connect any existing USB hard disk to your TV.
Setting up the WD TV is extremely straightforward. It's a compact little black box measuring 12.5 x 10 x 4cm so it will sit neatly beside your TV. The WD TV doesn't have any built-in storage at all, just two USB ports, which allow you to connect your hard drive or memory stick. You can use both USB ports at the same time, so you could have a permanent library of music and video files stored on a big fat hard drive connected to one port, while using the second port to plug in a friend's memory stick to check out their holiday photos or home movies.

Ports for SD and HD TVs
An HDMI interface at the back of the unit allows you to connect the WD TV to an HD TV, and there's composite-video output for use with older standard-definition sets too. Audio buffs also get a Toslink digital optical audio connector.