'Leccy Tech Did one of the two Tesla Roadsters tested by BBC TV's Top Gear really die on the track and need to be pushed into the studio garage by hand?
That's the question that has been exercising minds since Jeremy Clarkson tossed his orb on the Californian 'leccy sports car on Sunday night.
The Top Gear segment gave the distinct impression that one of the test cars ran out of juice after about 55 miles of being caned around the show's test track at Dunsfold Park airfield in Surrey.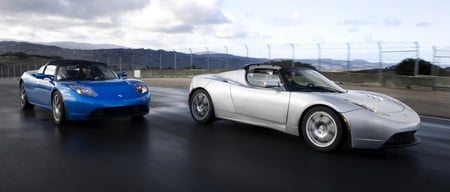 Tesla's Roadster: top gear?
Not so, says Rachel Konrad, Tesla's head of spin. According to a blog post, neither of the test cars got below 20 per cent of maximum charge capacity and at no point during the day were the Top Gear boys without a working Roadster.
Other arguments are raging over the exact nature of the "engine" overheat of the second Roadster; the cause of the "brake failure" experienced while charging on the first – a simple fuse failure, claims Tesla, fixed there and then, with the car "back up and running immediately"; and various claims and counter claims about recharging times.
All this is part of the to and fro of motoring-journalism-meets-light-entertainment and not quite as serious as the major bone of contention: did the silver Roadster actually run out of charge and/or break down, requiring it to be pushed into the garage by hand?
Says Konrad: "They never had to push a car off the track because of lack of charge or a fault. It's unclear why they were pushing one into a garage in the video; I'll refrain from speculating about their motives."
If it turns out that the BBC - not to be too blunt about it - made that bit up, we may not have heard the last of this. At the time of writing, the BBC has not replied to out requests for clarification.
Clarkson's other findings in a nutshell? The Roadster goes like stink in a straight line, is a bit noisy, is flipping expensive and the weight of the battery pack compromises handling.
Similar topics