This article is more than 1 year old
US Navy's robot stealth carrier plane unveiled
Mav and Iceman headed for the dole queue
Pic US aerospace'n'killware goliath Northrop Grumman yesterday took the wraps off one of the most advanced robot aircraft in the world, the X-47B Unmanned Combat Air System (UCAS). The X-47B is intended to operate from the flight deck of US Navy aircraft carriers, carrying out entire missions including air-to-air refuelling without pilot input.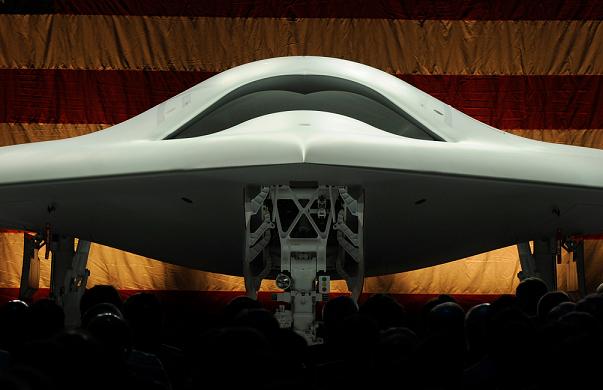 Bow down before your Stealth Robot Overlord, puny fleshlings!
(For a full enormo hi-res of this pic, click here.)
"The X-47B will demonstrate how unmanned combat aircraft can operate from aircraft carriers ... extending the carrier's reach and power projection from anywhere in the world," said Captain Martin Deppe, of the US Navy.
The X-47B project will provide just two demonstrator aircraft, mainly intended to prove that unmanned planes can successfully take off from and land onto US carriers. Catapult launch - and even more so, arrested landings - have traditionally been considered one of the most difficult and stressful piloting feats.
Apart from proving the concept of unmanned carrier aircraft, however, the X-47B will also be able to conduct air-to-air refuelling - giving it almost unlimited endurance. The US Navy hasn't asked for more, but in fact the aircraft would have little difficulty carrying weapons and flying autonomous strike missions, as it is derived from a previous joint programme between the navy and air force intended to produce a plane which could do just that.
The X-47B, in fact, will be one of the first true killer robots, able to conduct a mission using live weapons without needing to communicate with pilots or even supervisors on its mother ship or back in the USA. Current roboplanes are typically handled in combat over satcomms channels from bases in America, and take off and land under the control of pilots in ground stations near the runway.
Apart from its robot brain and controls, the X-47B also boasts much longer range than a normal carrier jet - and features Stealth technology. Some in the US Navy hope that it will allow carriers to stand much further off from threatening enemy coasts of the future, which might harbour dangerous ship-killing missiles able to punch through the fleet's defences.
Others are hostile, however. Pilots are one of the US navy's dominant subcultures, and they count themselves better than lowly airforce pukes because they do arrested landings - "traps". The Top Guns won't be looking forward to telling their children that there's no longer any way to win one's glorious wings of gold and the respect of the nation by jockeying a tailhook jet down to a wet deck on a stormy night far out at sea.
According to Northrop, the X-47B, having now been completed, will now enter ground tests in preparation for a first runway flight next autumn. Carrier trials are to begin in 2011. ®