First lady of Star Trek dead at 76
Farewell Majel Roddenberry
---
Majel Barrett Roddenberry, widow of Star Trek creator Gene Roddenberry and first lady of the seminal science fiction series, died early Thursday morning. She was 76.
Roddenberry died of leukemia at her home in Bel-Air, said a family spokesman. At her side were family, friends, and her son, Eugene Roddenberry Jr.
She was involved in the Star Trek franchise for more than four decades, and the only actor to have a dramatic role in every single incarnation of the series (both live-action and animated) for TV and cinema. Roddenberry began as the ship's first officer in the Star Trek pilot before NBC network executives insisted the part be given to a man. She later became nurse Christine Chapel in the original series, Betazoid ambassador Lwaxana Troi in The Next Generation and Deep Space Nine series and played minor recurring parts throughout the many Star Trek sequels and spin-offs.
Roddenberry also was the voice of Federation ship's on-board computers in many of the Star Trek TV series and movies. Two weeks ago, she wrapped-up the same role for the upcoming J.J. Abrams Star Trek prequel.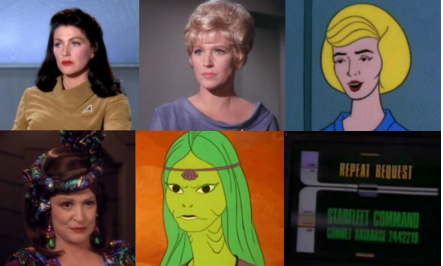 Some of the many faces of Majel Barrett Roddenberry
Loyal Star Trek fans perhaps best know Roddenberry from her frequent appearances at major Trek conventions each year.
"My mother truly acknowledged and appreciated the fact that 'Star Trek' fans played a vital role in keeping the Roddenberry dream alive for the past 42 years. It was her love for the fans, and their love in return, that kept her going for so long after my father passed away," her son said in a statement on the official Roddenberry website. ®