Review We rather like TVonics here at Vulture Central because its kit is British designed and made, and rather stylish. More to the point, for the large number of people who don't understand all this digital switchover malarkey, its devices work right out of the box.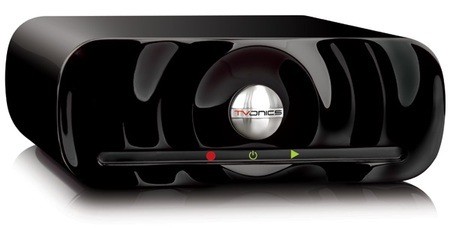 TVonics' DTR-500: foolproof
The DTR-Z500 is essentially an update of the DVR-250 we looked at – and liked – back in June 2007. In fact, the steel casing is identical in size and the only exterior difference being the rather curious 'wavy' front panel. As with the DVR-250, the DTR-Z500 is wholly devoid of controls or displays, that large silver knob being purely decorative. There isn't even an on/off switch - you just plug it in and away you go. It even sets itself up.
Round the back the Z500 has two Scart sockets, one with RGB and composite-vido and s-video compatibility, the other with just composite, which means that outputing to a DVD recorder will involve swapping cables around and crossing your fingers. As well as the two Scarts you also get a 3.5mm stereo line-out jack and co-axial aerial in and out sockets.
Since the Z500 lacks an RF modulator, that co-axial out doesn't mean you can use the Z500 with an old pre-Scart telly.
About now, some of you will be howling about the lack of an HDMI output, the presence of which - along with its ability to upscale standard-definition content to HD - is one of the main attractions of top-end DVR's like the Humax 9300T.
To be fair, TVonics make no claim to any sort of HD compatibility and we suspect that the vast majority of the Z500's potential customers will not be put off by its resolutely SD credentials.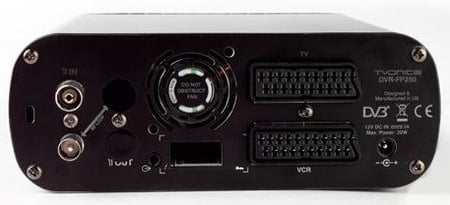 RGB Scarts - but no HDMI
For the remote control, TVonics has stayed with its tried and trusted Sky-style device, and a good thing too because as far as remote controls go it's almost faultless. And it works with other kit too - setting the remote up to control both the Sony TV and LG DVD player we had rigged alongside the Z500 was the work of mere moments.