Around 2,000 jobs are under threat at Dell's Raheen, Limerick plant as the company reviews its operations.
We understand that Ireland's Tánaiste [Deputy Prime Minister] Mary Coughlan and the Defence Minister Willie O'Dea met Dell executives, including founder and CEO Michael Dell, at Dell's Round Rock HQ in Texas last week.
Dell is reviewing its worldwide operations in the light of the downturn. The implications of this are cost-cutting measures which could affect the Limerick plant.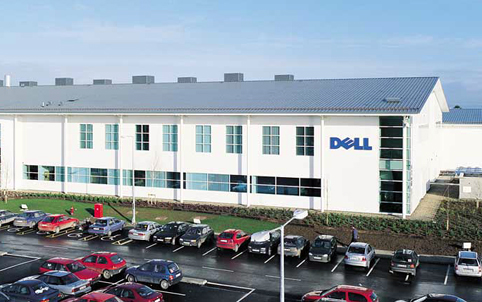 In September the Wall Street Journal suggested Dell was thinking of closing the plant and moving its manufacturing responsibilities to one in Lodz, Poland which, it is speculated, was being transferred to Foxconn, a Taiwan-based contract manufacturer.
Contract manufacturing is thought to be less expensive than assembling partially-assembled components in Dell-owned plants, particularly when the components are made by contract manufacturers in the first place.
Dell has been reported as saying it will tell its Limerick employees and the Irish government as soon as it has decided what to do concerning its Limerick operation. The official Dell line is this:
"We don't comment on rumour or speculation and there is nothing new to say. Any stories are pure speculation. Dell continues to look closely at our global footprint with a view to increasing our competitiveness while preserving and creating new differentiation for Dell in the market."
Dell has a substantial presence in Limerick, and the company says it is Ireland's largest exporter, largest technology company and the second largest company overall.
The Raheen plant, opened in June 1991, is Dell's European manufacturing facility, assembling PCs and laptop computers. The facility includes a research and development centre for communications and network products, and a Enterprise Applications Solutions Centre for businesses to test out networked applications on Dell kit.
Limerick also houses some of Dell's centralised European accounting functions, including its invoicing and treasury groups, and there is a support centre in Limerick as well.
Altogether it is thought that Dell employs about 3,000 people in Limerick. O'Dea is based at Limerick which would give him a personal incentive for doing his best to keep the jobs at the plant.
As well as being Tánaiste Mary Coughlan is also Ireland's Minister for Enterprise, Trade, and Employment.
The Irish Department of Enterprise said it will provide whatever assistance it could, such as increased research and development funding. EU rules in the new year will prevent state aid based on employee numbers.
The loss of up to 2,000 wage packets from laid-off workers as well as the ending of regional purchases of goods and services by the plant and presumed tax payments will have a strongly negative effect on the Limerick economy. ®
Similar topics