Enormous HP box spotted from space
Exclusive pics of Peterborough packaging pandemonium
---
Our recent shock revelations of HP's apparent desire to bury our beloved home planet under the maximum packaging possible have attracted much reader feedback regarding just how the world's biggest consumer of cardboard and bubblewrap intends to destroy Mother Earth.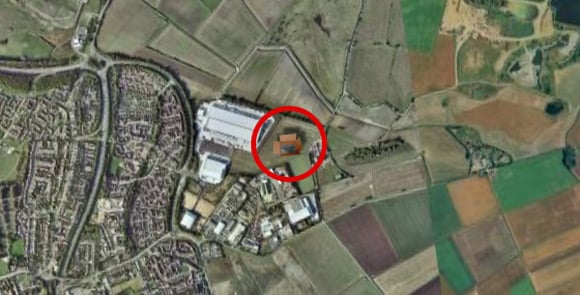 Until now, however, the company has restricted itself to containers which will fit inside the average courier van. We say until now, because here is a Google Earth grab showing the spectacular scene last week on the outskirts of Peterborough:
At maximum resolution, the chilling truth is revealed: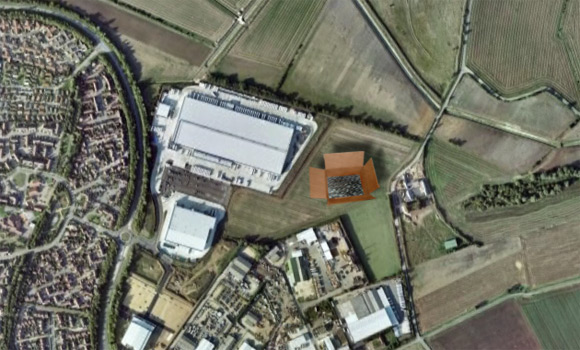 Well, El Reg immediately dispatched an undercover packaging surveillance unit to check out the situation on the ground. The following images were obtained at no small risk to our operatives who are currently subject to expert counselling as a result of their exposure to what one described as "the biggest f**king box I've ever seen".
First up, here's an image captured by our Vulture Central drone aircraft, remotely controlled from the public bar of the nearest pub: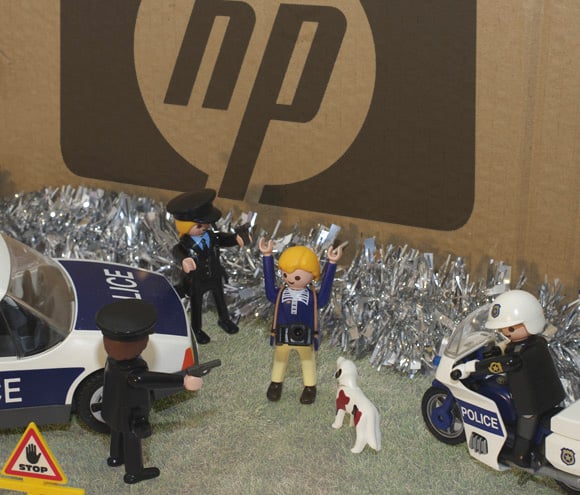 Armed police, backed by dogs, have rushed to the scene with lightning speed - not to contain the potential threat to national security posed by the überbox, but rather to detain a press photographer who has ill-advisedly whipped out a camera within two miles of a primary school, thereby arousing suspicion that his activities are related to capturing images for a Gary Glitter tribute website.
While plods contain the photographic menace, they have failed to notice an attemped boarding of the box by Somali pirates, who evidently hope to extract a meaty ransom from its intended recipients: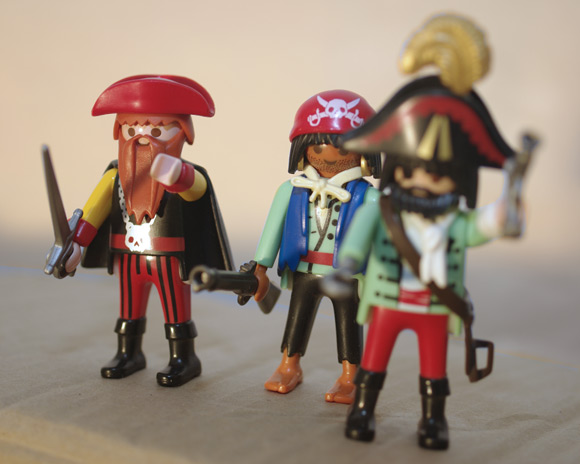 Security operatives are also oblivious to a nearby outrage against public decency perpetrated by a woman who believes the box represents a close encounter of the third kind, and is preparing an offering of "man oysters" for her extraterrestrial overlords. Seen here is the traditional local method of harvesting the delicacy, with her boyfriend a willing donor of tribute for the intergalactic visitors: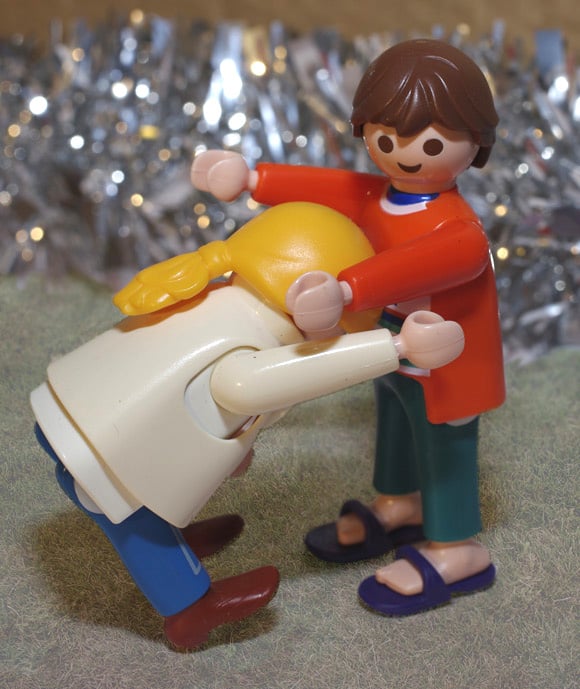 In a hidden corner of the mammoth box, meanwhile, an unemployed swan-roasting Lithuanian has risked the wrath of the Daily Mail by quickly taking up residence. Our picture shows him enjoying the paper's Xmas TV pop special, entitled Gypsys, Tramps and Thieves, which also features The Indignant Choir of Middle England with its rendition of The Horst Wessel Song and the Metropolitan Police firearms unit and its ever-popular version of the theme from The Boys from Brazil: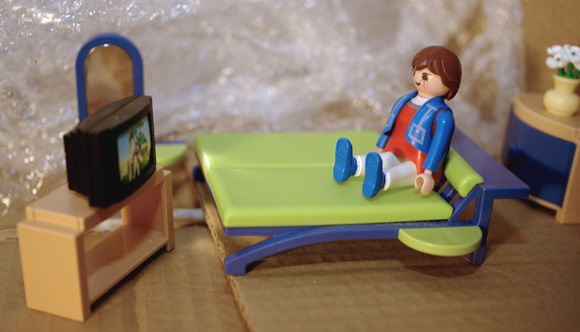 What our dole-scrounging ne'er-do-well doesn't know, though, is that his peaceful afternoon's viewing is about to be interrupted by Optimus Prime - poised to make short work of a "Toy Taliban" who entered "Tora Bora" into his sat nav and was directed directly to Peterborough: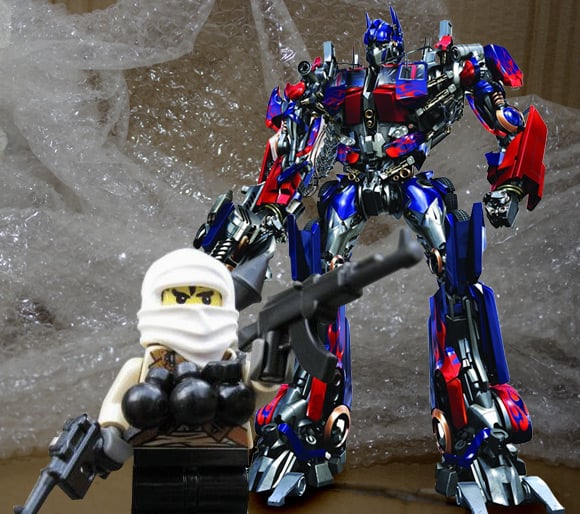 For the record, Mr Prime has no personal or political objection to our Afghan friend, but rather considers the presence of a rival manufacturer's figurines in a traditionally Playmobil reconstruction an affront to continuity.
Oh yes, and in case you were wondering, many thousands of teragigs of mainframe photo-enhancement computing time were eventually able to reveal just what the box really contained - one single DIMM encased in no less than 31,252,170,289 Bulgarian airbags of bubblewrap in a box measuring 2142 by 1428 linguine. As one shaken eyewitness put it: "Thank god the bastards weren't delivering a server." Quite. ®