Review Just because it's a touchscreen phone, it doesn't have to be wallet-stingingly expensive. Following on from its high-end eight-megapixel touch-controlled Renoir, LG is now bringing the joys of finger tapping and thumb stroking to the masses with the Cookie KP500.
Initially available in the UK on various pay-as-you-go packages from Carphone Warehouse for a touch over £100 - or from free on contract deals - this model is the most affordable touchscreen model yet, offering a reasonable set of features for the phone buyer on a credit-crunched budget.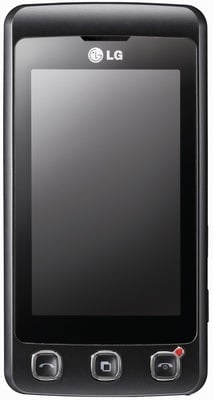 LG's Cookie: does a touchscreen phone have to be top-end? No!
Despite the price, the Cookie ticks the sharp-looker box. It has an 11.9mm-thick profile, and its large, 3in touchscreen display is the centrepiece of a minimalist front panel that's very similar to the Renoir - and other touchscreen phones we could mention.
At this price level, it's not going toe-to-toe with the big hitting touch phones. There's no 3G or Wi-Fi on the Cookie, just quad-band GSM/GPRS/Edge connectivity. You won't find GPS either, and there's no smartphone operating system under the bonnet. But there is a three-megapixel camera, music and video players, an FM radio, support for Micro SD cards and that attention-grabbing touchscreen UI.
LG has settled on a user interface that's similar to the set up on the Renoir. The Cookie is predominantly touchscreen operated, with only three physical buttons ranged under the 240 x 400, 262,000-colour display – regular Call and End keys, plus a central key that calls up lists of favourite and currently running apps. Around the sides are a camera key, a lock button and volume controls.
The large screen suggests a sizeable footprint, but the 106.5 x 55.4 mm bodywork is skinny enough and, at 89g, light enough to be comfortably handled and pocketed. The rubber-like matte black casing provides a fashionably smooth feel to the phone that you might not expect at this sort of price.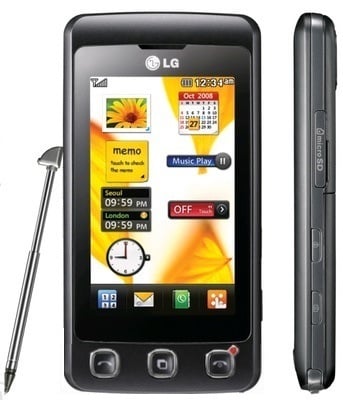 Ticks the sharp-looker box
A small telescopic stylus is slipped unobtrusively into the bottom of the casing, running horizontally beneath the controls. But the user interface is a mostly finger-friendly affair.
Similar topics