This article is more than 1 year old
That's cloud computing. But not as we know it, Jim
Reg readers see emptier skies ahead
Reg Reader Workshop Our thanks to the readers who recently took the poll which completed the Register's workshop on "cloud computing". Since the term is a bit of a marketing catch-all, we parsed it into software as a service, utility computing and online platform provision. We further broke down SaaS into generic, vertical and core applications.
We know it's early days to establish what the real benefits of cloud computing will turn out to be, but it is interesting to see what is emerging at the moment. Not surprisingly, the top expected benefit is the ability to scale to peak demands. However, 'Security' ranked the lowest likely benefit. Clearly the vendors' claims to be more secure than many internal IT departments are falling on deaf ears. Sharing the bottom rungs of the benefit ladder (less than ten per cent) are 'Ability to integrate' and 'Kinder to the environment'. More messages that aren't getting through.
When it comes to who's likely to be doing what and when, some differences emerged according to organisation size. Overall, it's clear to see significant resistance to cloud anything. At least 40 per cent of respondents say they are unlikely to consider it, ever. This is despite the respondents having a more positive attitude to IT than we usually see. Perhaps this is because over 70 per cent were systems architects/designers, IT managers and business managers.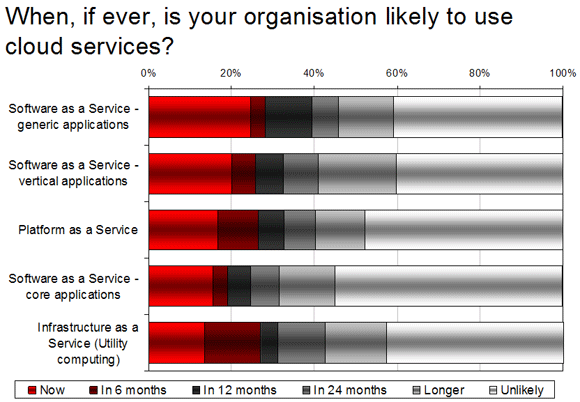 Splitting the figures by company size, larger companies (over 250 employees) are already using the various flavours of SaaS and utility computing more than smaller organisations. But, to keep this in perspective, we're still only talking about a 32 per cent take-up of the most popular category - SaaS for generic applications - among these larger companies.
The figures contradict what many insiders have been predicting, that cloud services are likely to be very attractive to the smaller organisation. To get from here to there, a lot of work needs to be done to remove the hype and to make the services and their benefits more understandable and accessible to these prospects.
Their challenge is simple: make people like Jim Coleman feel differently. He's a reader who made the following comment on an earlier article (Any clouds in your sky?): "When my ISP's network goes down, I can't do any work. When the Cloud Service Provider's servers go titsup, I can't do any work. When their own ISP goes down, I can't do any work. When their SAN goes haywire and it turns out their backups weren't working, I lose all my data."
We hear you, Jim. Let's hope the vendors do too. ®