This article is more than 1 year old
Cowon iAudio S9 PMP
Step forward, first real iPod Touch beater
Review Monopolies are never a good thing and, frankly, Apple's iPod Touch has had things its own way for rather too long.
Yes, there are better MP3 players and better PMPs, but the former are all too small to realistically watch movies on while the latter are just too big to be easily slipped into a pocket. Direct competition, such as it was, came only from the Samsung P2 but the P2's screen and storage were both too small. Video file support being limited to WMV didn't help, either.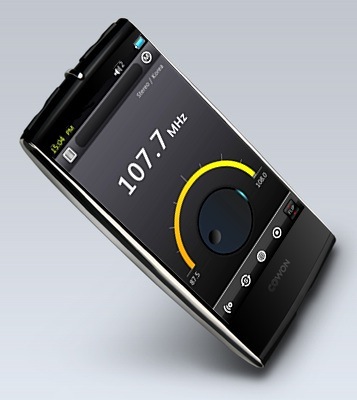 Cowon's iAudio S9: on yer bike, iPod Touch
Now Cowon's S9 has rolled up with the clear intention of wiping the smile right off the Touch's face.
In terms of external dimensions, the S9 couldn't be much closer to the Touch. At 106 x 56 x 12.7mm it's a shade shorter and narrower but a bit thicker around the middle – though it tapers towards the top and bottom. At only 68g, though, the S9 has the 115g Touch beaten. Yes, the S9 is clearly made of plastic, but it's still well made, and solid.
The S9 isn't devoid of exterior controls, quite the contrary. Up top there are volume, pause/play/menu and forward/back/scan rocker controls, while at the bottom there is an on/off/lock slider. But it's the touchscreen that does the donkey work.
Unfortunately, at some point between the design of the iAudio A3 and the S9, Cowon decided that proprietary USB ports are a really good idea. We beg to differ. At least it has a 3.5mm earphone socket, on the bottom.

Chatter generated by the first sightings of the S9 suggested that the UI was half-baked. Either those reports were nonsense or Cowon upped its game before the official release, because, as it stands, the S9's UI is not half bad.