Getting animated about a 6,000 core Soho supercomputer
Can you get me 413,138 mouse hairs?
The Lustre cluster
Apart from the 6,000 core render farm, using Dell dual-socket, quad core Xeons, there is a Lustre cluster file system meta-server with two 4Gbit/s Fibre Channel-attached RAID arrays, using SAS drives for speed. There are also eight object storage servers using HP processors which control the bulk storage, with each having 24 Infortrend EonStor arrays, attached via dual 4Gbit/s FC links, and populated with SATA drives, not faster SAS ones. Prescott said: "We got the aggregate bandwidth we needed because we had so many spindles."
Why use Infortrend arrays? Why not storage from HP or IBM or EMC or NetApp, well-known for RAID 6, arrays? Prescott said Framestore had used Infortrend products for the last ten years. "We were confident we could trust them [and] Infortrend is very good value."
Prescott's people wanted a system they could get up and running quickly. Infortrend's arrays were a known quantity and RAID 6 provided the extra protection needed in a large array.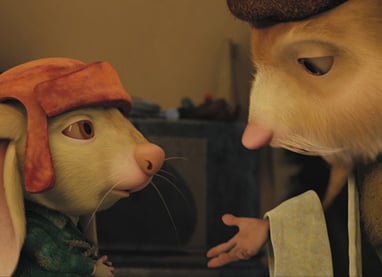 Prescott also wanted a system that could grow as the data amounts grew: "At peak working we were generating 5TB per night, so reliable high performance storage was central to our system design... 80 per cent of the rendering for the film was completed in the last three months of production. We designed the systems to scale. The project started with 50TB of storage which we grew by an additional 150TB as we worked."
The Render software is Pixar's Renderman, which Prescott says is a de facto standard.
At the peak of production there was a crew of 278 Framestore people using 4,700 of the 6,000 cores for work on The Tale of Despereaux, with other projects running in parallel. There are 40,089 individual assets in the film; 25 hero characters in 60 hero environments were modelled, surfaced and textured, as well as 12 secondary characters.
The Framestore crew generated 90 million files. To safeguard these, Framestore mirrored and snapshot the primary storage, installing its own dark fibre 10Gbit/s network between its three Soho production offices and a London Docklands data centre. All the project data was replicated and backed up across multiple locations each day.
The biggest output delivery in one week was 335 shots, and 1,200 shots were delivered during the last month of production as the processing load built up.
Prescott thinks that Framestore has built the most powerful CGI render farm in Europe. It used to be that Formula 1 Grand Prix was the place where IT suppliers established bragging rights. CGI render farms have become the preferred place these days because the work obviously stretches servers, networking, storage and file systems and because we know that the customers have bought the kit instead of agreeing some kind of sponsorship display aspect to the supply deal.
Framestore found that, all in all, the Despereaux project was larger then The Golden Compass, even though the Despereaux character had fewer hairs than the armoured polar bear in the Compass movie.
The Tale of Despereaux is showing in UK cinemas now, if you fancy taking your kids to see the end result of some serious CGI toil. ®