AT&T punts $99 iPhone
Yes, it's a refurb
Although the rumors of a $99 iPhone 3G from Walmart recently died an ignominious death, that yearned-for two-digit price point has again resurfaced - and this time it's real. To make the deal even sweeter, if you buy before December 31 you can knock another fifty bucks off the price.
That's the good news. The bad news is that it's a refurbished 8GB model from AT&T. And - as we assume you've guessed - you'll need to sign up for a two-year contract for your "pre-owned" 'Phone.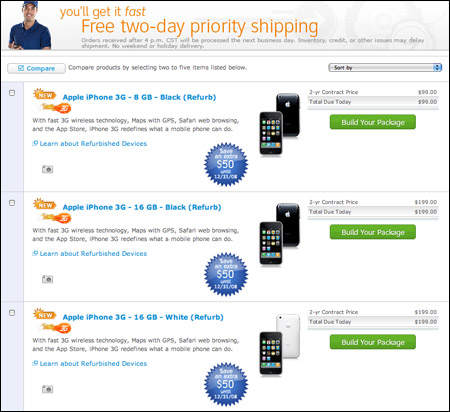 You pays your money and you takes your chances
AT&T is also ready to help if you just gotta have one of those "Look at Me, I'm Wonderful" snow-white 16GB phones but can't afford to pony up Apple's $299 admission fee into that exclusive club: The telecomonster is also offering a refurbished white 16GB iPhone for the low, low price of $199 (plus the same extra-fifty-off deal until this Wednesday).
With any luck at all, your pre-owned iPhone won't have had its data wiped clean, and you'll be able to make some new friends. ®