On Christmas day, the US Patent & Trademark Office slipped a little present under our collective trees: an Apple patent application entitled "Swipe Gestures for Touch Screen Keyboards."
Originally filed on June 27, 2007, the application describes "Systems, methods, and devices for interpreting manual swipe gestures as input in connection with touch-sensitive user interfaces."
More specifically, Apple has applied for a patent to replace some tap-based gestures on the multi-touch displays of a variety of computing devices, phones, and media players with "swipe gestures" - that is, making a device's display responsive to a finger being drawn across it rather than simply tapping it.
Swipe gestures, of course, currently exist on the iPhone and iPod touch for rudimentary tasks such as moving from one home screen to another or pinching images, but this new patent would extend that capability to enhancing what's now keyboard-based input.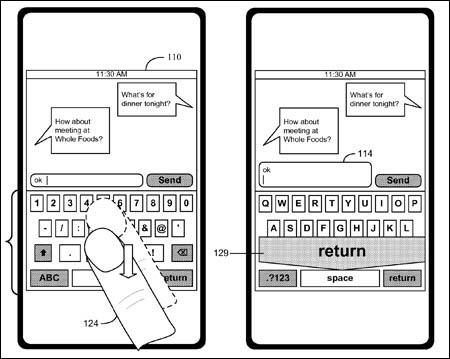 Swipe down, insert a return - simple
An iPhone with such a display could, for example, allow a user to simply swipe down to insert a return rather than tap the "Return" button or swipe left to delete a character rather than tap the tiny "X-marks-the-delete" button on the iPhone's wee keyboard. The application, in fact, specifically refers to swipe gestures as providing "a nice break from the sensorimotor and cognitive load of targeting very tiny keys."
The patent describes single and multiple-finger swipes, with the number of swiping digits invoking different actions. A single-finger swipe could thus delete a single character, while a double-finger swipe could delete a word and a three-finger swipe an entire line or sentence.
Left, right, upward, and downward swipes are described, each with the ability to invoke one or more actions depending upon the number of fingers used. The actions invoked could range from a simple new-line insertion to displaying an "alternate keyboard." The application also describes a single-finger upward swipe invoking "Shift," and a two-finger upward swipe invoking "Caps Lock."
Touch-swiping isn't the only user-generated activity described in the application. It also covers "touch, force, or proximity" sensing, thus building on proximity-sensing patents filed earlier by Apple - including one filed way back in 2005.
The gestures, according to the application "may also be customized by the user." We assume this to mean that the user would be able not only to choose which actions the gestures perform, but also ignore them if they want, making swipe gestures useful as "power user" enhancements to a basic, more-easily learned (and memorized) interface.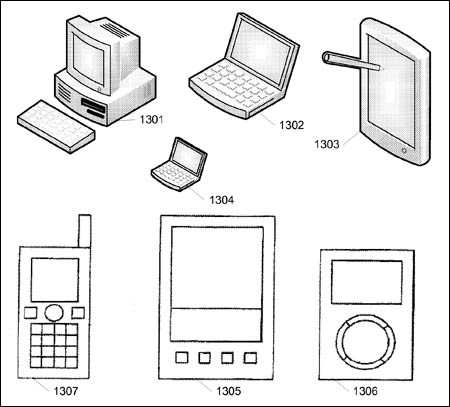 The application's illo of supported devices is pleasantly retro
The lead name on the application is Apple engineer Wayne Westerman, formerly of Fingerworks, which Apple quietly acquired in 2007.
Westerman is widely credited with much of the heavy lifting that went into the iPhone's touch-screen interface and has been focused on multitouch interfaces since 1996. (If you're up for some heavy lifting of your own, a PDF of his 333-page doctoral dissertation of 1999, "Hand Tracking, Finger Identification, and Chordic Manipulation on a Multi-Touch Surface" can be downloaded here.)
Over the past few years, Westerman has contributed to Apple patents that have been far less user-friendly than this one - witness, for example, "Multi-Touch Gesture Dictionary," which would have required all of us to become, in effect, court stenographers. This year's Christmas gift, however, seems to be one that might very well find its way into an upcoming iPhone software update. ®