Novo Minoru - the world's first 3D webcam
'Poke that thing someplace else...'
In fact, the only problems we encountered were due to the somewhat clumsy installation software. On our first attempt to install the software, its Setup Wizard waved an error message at us in poorly translated English, declaring "No find match device!" and telling us to plug the Minoru in, even though we'd already done so.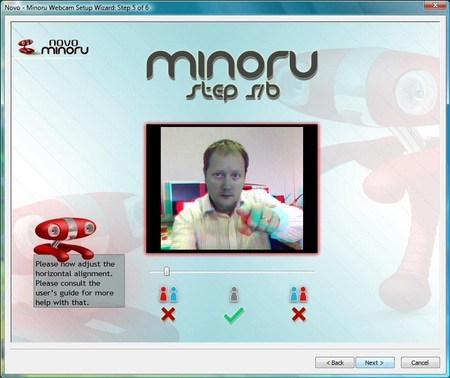 First, correctly colour-align your protruberance
A second attempt at installing the software produced the same error message, so we rang the manufacturer for help. While we were on the phone, the Minoru finally sprang to life and displayed a video image on screen. It seems that the driver software just takes a while to warm up, and once we got through the initial setup process this problem didn't occur again. However, the rather untidy installation process could be a bit confusing for people who aren't used to fiddling around with device drivers.
The Setup Wizard prompts you to individually focus the Minoru's right and left 'eyes', displaying separate preview windows for each one. It then switches into 3D mode, showing you a test image with the blue and red anaglyph images superimposed over each other. You need to adjust the horizontal and vertical alignment of these images in order to create an effective composite 3D image.
And then, at long last, it's time to don the cardboard glasses.
Our test unit came with three sets of specs, although PDT tell us that the shipping version will include five pairs of glasses that you can keep as spares or give to your chums. The Minoru transmits its image in 3D, so that people you chat with on the internet can view your image in 3D as long as they've got their own set of glasses. The manual provides straightforward instructions for using the Minoru with a number of popular video-messaging programs, including Skype and Microsoft Messenger, although it's incompatible with Yahoo! Messenger. We had it up and running with Skype in just a few seconds.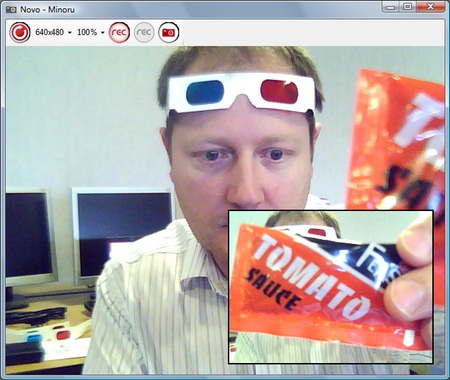 Or go back to 2D and use the second lens for picture-in-picture close-ups
The 3D effect does work quite well – although watching your pals pointing their fingers straight at the camera isn't quite as much fun as watching a shark leap out at you in Jaws 3D. We don't suppose it will take long before some people start to point other protuberances at the poor, unsuspecting Minoru too. Ahem.