Novo Minoru - the world's first 3D webcam
'Poke that thing someplace else...'
You can also switch the Minoru back into 2D mode and use it as a conventional webcam whenever you want. The 2D system includes a handy picture-in-picture option that allows you to hold objects up to the right-hand lens and then display the image from that lens as a close-up in a picture-in-picture insert.
As well as using the Minoru for live video-chat sessions, you can also use it to record 3D video clips that you can store on your hard disk or even upload to YouTube, thereby saving the global economy from recession by prompting unprecedented consumer demand for silly cardboard spectacles.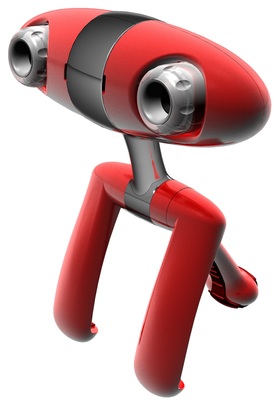 If Alessi designed webcams, they'd look like this
The Minoru Video Capture program is very easy to use, as the controls simply consist of pull-down menus for resolution and magnification along with a big red 'Record' button. The Minoru has a maximum resolution of 800 x 600 and can capture frame rates of up to 30f/s, given a sufficiently fast PC. When you hit Record, you're asked to choose either uncompressed .AVI format or compressed .ASF format. The .AVI files were generally about ten times the size of .ASF – about 500MB per minute at 800 x 600, compared to about 50MB for similar recordings in .ASF format. Switching between 2D and 3D modes made very little difference to file sizes at all.
The software did prove a bit erratic at times, though, and would occasionally insist that the Minoru was already being used by another video capture program, even when we checked Task Manager to ensure that this wasn't the case. Sometimes we could fix this simply by unplugging the Minoru and then plugging it back in, but on other occasions we had to restart our PC completely. We can't help thinking that the installer and Video Capture programs could still do with a bit more testing.
Verdict
There are dozens of low-cost webcams available these days, and it's easy to dismiss the Minoru's 3D effect as a mere novelty that will quickly lose its appeal. However, a head teacher of our acquaintance did sound quite intrigued by the ability to record video clips of science projects where you could hold models or other objects up to the lens and examine them in 3D. We wouldn't describe it as a 'must-have' gadget by any means, but it's not expensive, making the Minoru is an affordable indulgence. ®
More Gagdet Reviews...
| | | | |
| --- | --- | --- | --- |
| Sony Rolly | Rovio Wowee | Motorola Tlkr T7 | Vuzix AV320X |

Novo Minoru - the world's first 3D webcam
It's the world's first 3D webcam. Sexy internet chit-chat will never be the same again...