iPhone gets Hong Kong eye transplant
Stick-on lenses
---
If you're an iPhone owner who's disappointed with that oh-so-popular device's oh-so-limited camera, there's good news from Hong Kong gadgeteer USBfever: stick-on lenses.
Thanks to the sharped-eyed trend-spotters at MacNN, we learned today of this trio of magnetically mountable lenses for the myopic iPhone. Three are available to improve your iPhone's eyesight: Wide Angle ($16.99), 2X Telephoto ($16.99), and Fish-Eye ($19.99).
Each lens attaches magnetically to any tiny-lensed device. If the device has a ferrous-metal body, the lens will simply stick on its own. If, like the iPhone, the body is plastic, the good people at USBfever provide a self-adhesive metal ring to encircle your device's lens and to which to attach the magnetic USBfever lens.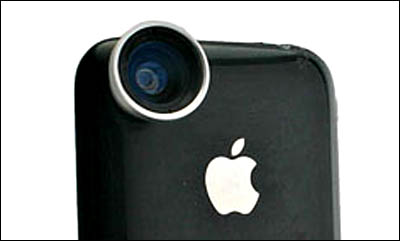 Double your iPhone camera's reach with a 2X telephoto lens
Each lens, according to USBfever, is made of "high-class glass." The Wide Angle lens provides a "Super Marco" 0.67X effect, while the 2X Telephoto provides - you guessed it - 2X magnification and the Fish-Eye achieves a 170-degree field of vision with a 0.28X magnification. A plastic lens cover and keychain strap are included.
You've got to admire the USBfever folks for their aggressive marketing. For example, they're currently offering their Universal Slim USB Car Charger at the low, low price of $0.01 because, as they say, "We want to fight against the so-called Financial Tsunami with you."
And please don't take offense at our pointing out their webmaster's occasionally fractured English. We hasten to admit that it's infinitely better than our Cantonese. In fact, we stand in complete solidarity with him when he says "Our system is not so smart still."
We know how that is, pang yau. ®