SpaceX has announced that it's completed assembly of its first Falcon 9 rocket - destined to deliver cargo to the ISS following a recently inked supply deal with NASA.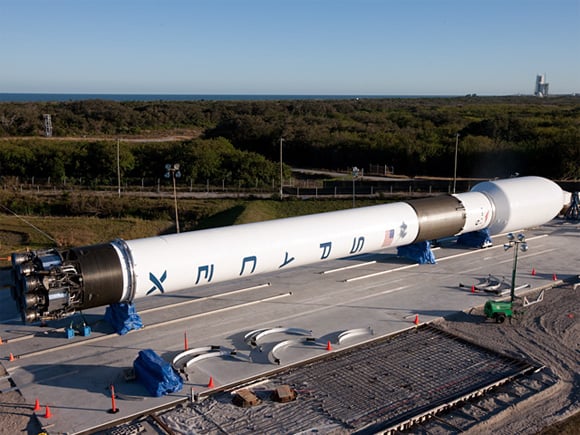 The 54.9m (180ft) beast now awaits raising into the vertical, once SpaceX has carried out "a tremendous amount of welding" to assemble the rocket's launch mount and erector. The company has not yet set a date for the inaugural flight.
For ISS operations, the Falcon 9 will lift a reusable Dragon payload capsule. The first of three demo flights, a five-hour jaunt during which Dragon will orbit the Earth and parachute back for an ocean recovery, is slated for some time this year.
The second will involve a close encounter with the ISS, moving to within 10km of the orbiting outpost to "exercise the radio cross-link, demonstrating the ability of ISS crew to receive telemetry from Dragon and their ability to send a command to the spacecraft".
In 2010, Dragon will demonstrate a "full cargo mission", docking with the ISS, albeit without actually carrying any cargo.
SpaceX is contracted for 12 ISS flights at a cost of "about $1.6bn". Orbital Sciences Corporation of Virginia has also got its snout into the post-shuttle courier trough with eight launches for around $1.9bn. The company will deploy its Taurus II lifter for the missions - currently in development and scheduled to do a maiden demonstration flight in 2010. ®