Huawei provides connectivity software for both Windows - in all its recent varieties - and Mac OS X. Both are included in a CD-Rom partition on the modem itself. We used the E176 with a MacBook Air running Mac OS X 10.5.6, and on an Acer Aspire One netbook using Huawei's Linux software.
Having a BT Mobile Broadband modem handy - it's a Huawei E170 - we used the SIM and configuration settings with both devices for a back-to-back comparison. We tried the E176 out for a couple of weeks, to help iron out the performance inconsistencies that arise from the number of people connecting at any given time and other network factors that are nothing to do with the modem.
Huawei touts the E176's "master and slave antennas that incorporate robust receiving diversity capabilities" claimed to "strengthen incoming signals significantly... even in poorly covered areas". Where we tried the E170 and E176 together, the newer model showed consistently better signal pick-up than its predecessor, usually one signal-strength bar, and occasionally two, more than the E170 showed.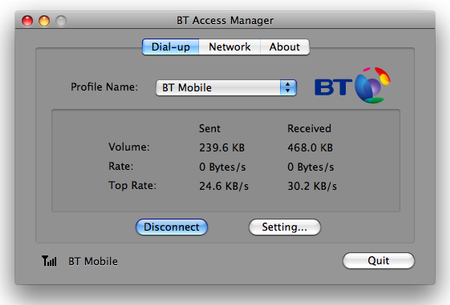 You only get basic connectivity with Huawei's (rebranded) Mobile Connect OS Xapp
Modem performance is difficult to measure absolutely - there are too many other factors at play. After eliminating as many as we could, we generally felt the E176 yielded speedier data transfers than the E170, though we'd be lying if we said it was significantly faster.
So, there's no question that the Huawei E176 is a nice HSDPA modem. The problem will be getting one. Huawei itself appears to be pushing the similarly specced E180 - the difference is a fold-out USB connector - more than the E176, so tracking one down may be tricky. We've not tested the E180 yet, but our gut feeling is that we prefer the fixed USB connector of the E176 as it's likely to better withstand being frequently yanked out of and stuffed into laptop ports.
The other aspect is whether carriers will pick up the E176 and offer branded versions. So it may become available only in a locked form, which may or may not be a problem for you.
Verdict
The E176 comes packed with the latest HSDPA and HSUPA technology, and can connect to as many networks around the world as it's possible to connect to. It'll even work as an 8GB USB Flash drive if you have a suitably size Micro SDHC card. It's compact and convenient. All that you can say about other vendors' modems, but we like the Huawei for its support for a broad array of operating systems. ®
More Modem Reviews...
| | | |
| --- | --- | --- |
| Sierra Wireless 885 | Novatel MC950D | Huawei E219 |
Sponsored: How to simplify data protection on Amazon Web Services

Huawei E176 Micro SDHC-ready HSUPA 3G modem
Worldwide HSDPA/HSUPA connectivity at the highest speeds the standard allows.