Companies burying themselves in IT gear
Doesn't virtualization fix this?
The religion of virtualization may be all over the IT trade press, but apparently the data centers of the world haven't heard the good news yet and have been buying up PCs, servers, and storage gear like crazy to support their application and data loads. And if data from British IT consultancy Compass is any guide, IT budget growth over the past four years has been driven by capacity needs, which are outpacing price/performance improvements.
This is, of course, good news for the IT vendors, who like to see data trends like the ones shown by Compass even if they are preaching how virtualization can save people money on footprints and management costs.
Compass was founded in 1980 in Sweden by Olof Söderblom, an IT and business operational efficiency guru, and the company is today located in Guildford, Surrey, with 19 offices around the globe. The consultancy maintains a database of clients and a slew of metrics concerning how they operate. And to get a little PR noise in a slow news week, Compass kicked out a bit of data based on a survey of 105 of its clients, showing that over the past four years they have been adding PCs, networking gear, servers, and storage like crazy as prices have dropped, but the overall IT hardware budgets at these firms is still not falling. Take a look: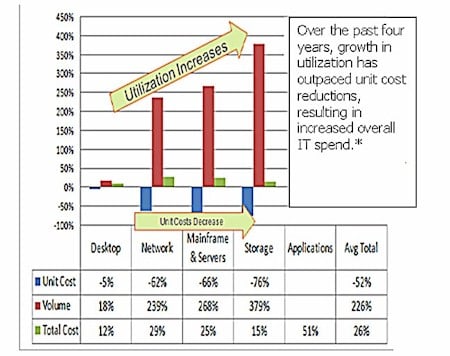 Over the past four years, the companies that Compass studied saw a 5 per cent drop in the cost of PCs, but the number of machines they acquired rose by 18 per cent. The price of networking gear fell by 62 per cent, but volumes more than tripled. Ditto for servers, which had a unit cost reduction on average of 66 per cent at these customers over four years, but volumes also more than tripled. Price declines for storage fell by 76 per cent, and nearly quintupled. Clearly, it is good to be in the storage racket, but the average total cost in the IT budget only rose by 15 per cent over those four years - compared to 25 per cent for the server budget, 29 per cent for networking, and 12 per cent for PCs. And where is the real money action? Look at applications, where costs have risen by 51 per cent in those four years. It is good to be SAP and Oracle, to be sure.
This kind of runaway spending does not fit in the current economic climate, of course. And the analysts at Compass are telling IT departments, bean counters, and upper management alike to view the economic downturn as an opportunity to ditch legacy systems and modernize.
"We're witnessing the best opportunity since Y2K to address problems in how companies use business critical applications," explained Tim Pacileo, a principal consultant at Compass who released a statement in conjunction with the survey data. "Top performers are recognizing they can't run a 21st century business on 20th century technology. They're using the current slowdown to take actions that will provide a competitive advantage when the economy recovers." He advises that the window of opportunity to do an IT transformation closes rapidly because once the economy recovers, other priorities will take over. It is also obvious that vendors are eager to do deals now and will probably yield quite a bit on pricing to close deals, or throw lots of extras, such as legacy migration services and the like, into the mix.
That said, the Y2K bug happened to coincide with a desire by midrange and large enterprises to install so-called ERP suites with their integrated financials, manufacturing, and distribution modules. So it made more sense to deploy new ERP applications that didn't have Y2K bugs than fix existing (and often homegrown) legacy applications that did have date issues. And, moreover, the Y2K bug and the ERP itch hit as the dot-com bubble was expanding and everyone felt rich as long as they had a Web site and some money in high-tech stocks. It seems safe to say that getting budget for a massive application overhaul in this economic downturn is problematic, at best.
But the pitch can be made, nonetheless. Pacileo cited one Compass customer, a large commercial bank, that had a core banking system with 127 interfaces to a slew of applications; Compass recommended that the company stop adding their own interfaces to the software every time they added an ancillary application and buy a new core banking system, which required only 33 interfaces to be supported by the development staff. That leaves the IT department time to do other things - like virtualize the servers and PCs so they don't have to manage so many pieces of gear. But the trick, apparently, is to take a hard look at the applications, not the underlying gear.
"Organizations that effectively rationalize their application portfolios reduce overall spend by 20 to 40 per cent, enhance quality and organizational agility, and reallocate savings to implement more innovative and competitive solutions," Pacileo says.
Compass says that the customers in its databases report that they are spending 80 to 85 per cent of their IT budgets just managing and maintaining existing systems, leaving only 15 to 20 per cent of the IT budget for innovation for new business units or improvements to existing ones. This is consistent with the breakdown of budgets on maintenance versus new development seen by other IT consultants. ®