Iomega aims at TVs with home server
Backs up PCs and plays digital media files
Iomega has announced a home storage and media server that backs up files on connected PCs and plays digital media content to connected output devices.
The Home Media Network Hard Drive (HMNHD) is a 500GB or 1TB hard drive, plus embedded processor running Linux and EMC's LifeLine software. It connects via gigabit Ethernet to a router in the home and, through it to Windows, Linux and Mac OS PCs and notebooks. Retrospect software, included with the product, can be used to backup user-selected files and folders on the PCs and notebooks.
Mozy software, also included, can be used to have files backed up to Internet-connected EMC data centres (in the cloud) with 2GB capacity available at no charge and a $4.95/month subscription giving you unlimited capacity.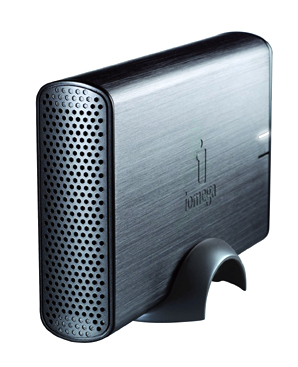 Retrospect and Mozy agent software comes on a CD, and is installed on each PC or notebook that connects to the home router. The software also includes functionality that detects when the HMNHD device is powered up and on the network and presents it to the PC or notebook as a hard drive automatically. There is no need for the PC or notebook user to do anything to connect to the HMNHD.
The new Iomega product can also play digital media content to Xbox 360 and PlayStation 3 games consoles, iTunes devices, digital picture frames, networked TVs and devices supporting digital media adapters as it supports iTunes, UPnP (Universal Plug and Play) and DLNA (Digital Living Network Alliance) standards.
George Melissargos, an Iomega EMEA product manager, said that DLNA is a collection of protocols that ensure, in effect, a DLNA host can serve media files upon request to a DLNA target and have them played without frames being frozen or other interruptions. The HMNHD will send media files small chunk by small chunk to an Xbox 360, PS2 or Iomega ScreenPlay product, where the chunk stream will be buffered and played on a connected TV.
Newer networked TVs, such as ones from Philips, Samsung and Sony, directly support the DLNA protocol set and have Ethernet connectivity. They can connect to the HMNHD product in this way and play media content stored on it. Melissargos expects the number of such DLNA-supporting TV products to rise.
He also said that Iomega is talking to a mobile phone supplier in northern Europe as some of its phones support DLNA already and can be treated as DLNA devices by the HMNHD for playing or exchanging digital media files. It's a safe bet this is Nokia, as its N95 8GB mobile phone is a certified DLNA media server, and that Iomega will be talking to Sony Ericsson about similar functionality.
As the HMNHD already supports iTunes then a connection to Apple iPod and iPhone devices could also be established in theory. Apple is not a published member of the DLNA organisation.
The Home Media Network Hard Drive has a USB port to which can be hooked up a printer, to act as a networked home printer, or an external hard drive for added capacity.
Iomega is continuing to sell its ScreenPlay and ScreenPlay Pro HD products which store media files and play them on a connected TV using the HDMI interface. Melissargos said Iomega is thinking about adding direct media playing capability to the HMNHD product.
LaCie has a media playing LaCinema Rugged drive with HDMI connection to a TV. It is not a listed DLNA member.
Buffalo has a LinkTheater storage product that supports DLNA. It does not offer backup facilities for PCs and notebooks. Buffalo offers LinkStation and TeraStationNAS products for networked storage which do offer backup facilities as well as having optional web access to files stored on them.
It would not be too surprising if Buffalo added DLNA media capabilities to the LinkStation and TeraStation. Nor would it be too much of a stretch to envisage Iomega adding web access to the HMNHD product in the future.
Like Buffalo, HP and Microsoft are members of the DLNA organisation and have home media server products. HP's MediaSmart Connect product has an HDMI connection to a TV. The more expensive MediaSmart Server EX470 adds backup and web accesss. It uses Microsoft's Windows Home Server operating system.
Western Digital has its WD TV HD Media Player which turns a USB-connected hard drive into a media player via an HDMI port to a TV. Both Seagate and Western Digital are members of the DLNA organisation and DLNA-certified products could be expected from both suppliers sometime later this year.
A 500GB Iomega HMNHD will cost about £135, inclusive of VAT, with a 1TB model costing £180. Both will be available later this month. It looks a neat product, but could possibly do with a snappier name than the Home Media Network Hard Drive. The company that bought us the Zip, Jaz and Rev drives and currently offers eGo desktop drives, Mozy backup, and is part of EMC's Decho business unit, could surely come up with something better. Decho Drive, anyone? ®