Kodak unwraps CES cameras
This season's must have shooters
Kodak is poised to kick off the 2009 Consumer Electronics Show with the unveiling of the latest additions to its snapper family.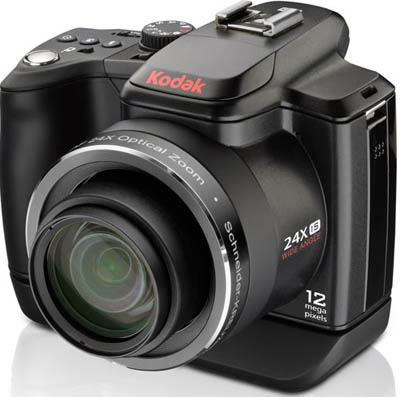 Kodak's Z980 shooter
First up is the 12-megapixel Z980, which comes equipped with a 26mm wide-angle lens and 24x optical zoom capability. The shooter also has a vertical shutter release and detachable vertical grip.
Kodak's established Smart Capture feature is included, which analyses scenes and adjusts the camera's settings accordingly to give you the very best chance of capturing that perfect Ansel Adams skyline.
A hot shoe's also included if you need a little more help lighting up your subject.
If the Z980 doesn't take your fancy, then Kodak's also unveiled the ten-megapixel M380 point-and-shoot snapper for... ahem... "style-savvy consumers".
Although Kodak's still keeping mum about many of the shooter's features, it has said that the M380 has a 5x optical zoom and 2.7in LCD display.
Another 10-megapixel model, called the M340, will also be made available, but it'll only have a 3x optical zoom. A lesser, nine-megapixel model, the M320, has also been created with a 3x optical zoom.
All three M series Kodak snappers will be available in a range of body colours, including red and blue, silver, and red.
Prices or launch dates haven't been confirmed yet for the Z980 or any of the three M series cameras. ®