Kodak updates pocket camcorder range
Is that a pocket camcorder in your trousers, or...
Kodak has unveiled the Zx1 as the latest addition to its expanding portfolio of pocket camcorder devices.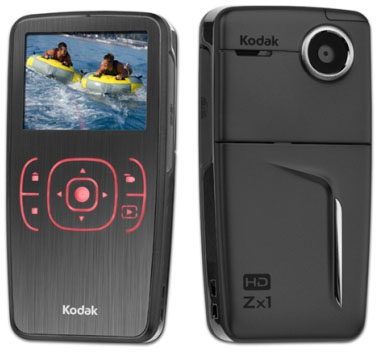 Kodak's Zx1 pocket camcorder
The firm launched the bulky Zi6 back in July, but the Zx1 sports a slimmer and sexier profile – even if the specifications of both camcorders are largely the same.
The Zx1 can capture video at a resolution of up to 720p and, although its 2in display is slightly smaller than the Zi6's 2.4in screen, the latest model does at least sport the same 30fp/s or 60fp/s frame rate capture choice.
One area where the Zx1 does surpass the Zi6 is in its body configuration. Kodak's latest pocket camcorder is weather resistant, according to the firm, which ensures the gadget will stand up to splashes and dirt.
Content's stored onto SD memory cards of up to 32GB and an HDMI cable is included for displaying your videos directly onto an HD telly. A remote control is also available, but sold separately.
The camcorder's powered by rechargeable AA batteries, which are included, and is available in a range of body colours, including red, pink and blue.
Kodak hasn't released a launch date or price for the Zx1 yet. ®